We are extremely saddened to announce the passing of our buddy Babalu...he went very unexpectedly; his poor little heart gave out on him, but he will live in our hearts forever.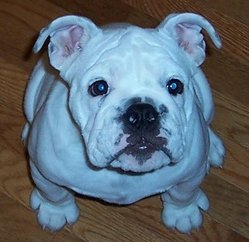 His death has affected us all in ways that we never imagined. Babalu is the first dog that we have had the privilege of knowing throughout his entire life, from start to finish. He came to us as a puppy, he did his training with us, he got groomed here, we visited him at home to take him for walks, he attended doggie daycare regularly; he was just a true Gemini Dog, through and through.
His daddy says it best, "Although it was too short, I know he had a very happy life, and he brought a lot of joy to (our) lives.
Thank you for having him at your doggie daycare. He truly loved going there; I had to drag him out at night when it was time to go home… I don't think he would have been the happy, content dog that he was without the proper daycare he got early-on, as a puppy at Gemini."
We will all miss Babalu; he was such a good dog. His time on this earth was way too short, but it was truly a pleasure and a gift to have him in our lives for the few years that we were given. He waits for us now at the Rainbow Bridge with all of the doggies that have gone before him, and he will greet us all one day when it is our time to join him...