Meet our Team
Our staff works hard to make your dog's stay a safe, healthy, and fun one! Our staff have a genuine love for what they do and for the dogs in our care. You can always count on us to treat your dog as if he were our own...we really do love our Gemini Family! Read below to learn a little more about the way Gemini Dogs started and who we are.


Michelle Allen, CPDT-KA ~ "Mich" (pronounced like "wish")
Owner & Certified Professional Dog Trainer
Mich is certified in PetSaver® CPR, First Aid & Care and is a certified PetTech® Instructor, meaning she can certify others in the PetSaver® program.
Mich started her career at Gemini Dogs as the Office Manager back in the mid-90's and worked her way up from there... all thanks to "Dancer" (shown here), her original Gemini Dog. Mich had three separate experiences with finding lost dogs in one week, and it was a chance stop at a pet store that same weekend (to purchase a new dog bed for Dancer) that started Mich's Gemini Dogs journey; she saw a Gemini Dog Training & Daycare business card that said, "Office Help Wanted" and realized that the dogs were calling out to her! That was the beginning of the wonderful journey to where we are today!
Instructing since 2008, Mich is a Certified Professional Dog Trainer - Knowledge Assessed (CPDT-KA) and has participated in numerous dog daycare/boarding/grooming/training seminars & workshops in the New England area and along the East Coast, including the APDT Conference, Clicker Expo, the Dogs of Course Instructor Training Course (ITC), the Pet Boarding & Daycare Expo, the Dog Gurus Summit, and seminars by Karen Pryor, Bob Bailey, Carolyn Barney, Sue Sternberg, Pia Silvani, Gary Wilkes, and more. She has also taken online training courses offered by Dr. Ian Dunbar, Victoria Stillwell, and others.
Mich is a member of the Association of Pet Dog Trainers (APDT), the International Boarding and Pet Sitting Association (IBPSA), and the Dog Gurus.
She is an AKC Canine Good Citizen (CGC) and S.T.A.R. Puppy Evaluator, as well as a Disaster Animal Rescue Team (DART) volunteer with the Humane Society of the United States (HSUS), RedRover formerly called the United Animal Nations (UAN), the State of Massachusetts Animal Response Team (SMART), and the Central Massachusetts Disaster Animal Response Team (CMDART). She has been deployed in several disasters, including after Hurricane Katrina, multiple deployments to the many-months-long Puppy Mill Seizure in Buxton, Maine (which is where Baxter & Tigger were rescued), and a Horse/Donkey Animal Abuse case in West Virginia. She remains on-call for both natural disasters & fires, as well as animal abuse and neglect cases on a local, regional, and national level.
Mich has competed and titled in the dog sports of Rally-O, CPE Agility, and TDAA Agility with her former dogs, Dancer & Tyler. Mich has also hosted multiple sanctioned trials for the sports of NACSW Nosework, TDAA Agility, CPE Agility, and APDT Rally-O and has acted as the Trial Secretary for those events.
Mich has a soft-spot for Cavalier King Charles Spaniels, so be ready for a full-on squeal if you bring one of those cuties in the doors!
She now has three dogs at home, including a Boerbel (Solee), a Boxer (Hemi), and a Shi-Poo (Tigger), as well as a house-guest Australian Shepherd (Bear). She has already said goodbye to Tigger's littermate (Baxter), her Pittie mix (Sky), her Bichon (Tyler), and her Terrier Mix (Dancer)...they all await us at the Rainbow Bridge with all the other Gemini Dogs that have gone before and after them.
Penny Allen
Co-Owner
Penny is certified in PetSaver® CPR, First Aid & Care and is a certified PetTech® Instructor, meaning she can certify others in the PetSaver® program.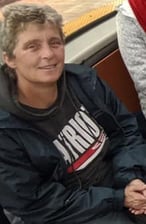 Penny joined the Gemini Dogs family in 2005, and is well-known to all of the doggies as their primary source of love and cookies! Parents often joke with us about getting snubbed by their dogs when Penny is around...she just has something about her that the dogs absolutely love; many dogs run to Penny for love and attention over anyone else!
Penny has been involved with every aspect of the business since her beginning working as a Kennel Tech back in 2006. Penny now takes care of the day-to-day billing and accounting for Gemini Dogs, and provides un-ending support to her wife and co-owner, Michelle Allen. She of course also owns Solee, Hemi, and misses Baxter, Dancer, Sky, Tigger, and Tyler, and of course we both claim Bear, even though he is technically our son Kyle's dog!
Penny and Mich were married in 2012 on-board the cruise ship Norwegian Dawn in Boston, MA and they enjoy cruising when they have the opportunity to sneak away for a week. They have three boys, Kyle, Cory, and Cody, all of whom have worked at Gemini Dogs in the past. Kyle and Cory both joined the United States Marine Corps and were based in Camp Lejeune, NC. Kyle has since exited the USMC and is living locally, while Cory is a Captain in the USMC. Their youngest boy, Cody, lives in Lima, Ohio and just bought a house and is working and doing well for himself, too. Penny & Mich could not be prouder moms! Lucky for them, their oldest son Kyle moved back to MA after his service ended, and now has two beautiful baby boys, Kyle Jr. and Cade, so we are officially Grandma and Mamaw now! These days, you will often find Penny babysitting the baby boys for Jess & Kyle, so that Jess can be here at Gemini Dogs working!
Penny is a Disaster Animal Rescue Team (DART) volunteer with the Central Massachusetts Disaster Animal Response Team (CMDART). She has been deployed on multiple deployments to the many-months-long Puppy Mill Seizure in Buxton, Maine (which is where Baxter & Tigger were rescued). She remains on-call for both natural disasters & fires, as well as animal abuse and neglect cases on a local and regional level.
Penny has also co-hosted multiple sanctioned trials for the sports of NACSW Nosework, TDAA Agility, CPE Agility, and APDT Rally-O and has worked in every volunteer capacity for those events.
Macklin (Mac) Maguire
Daycare & Boarding Manager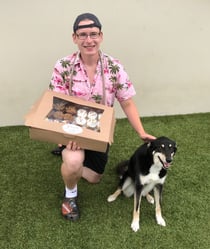 Mac is certified in PetSaver® CPR, First Aid & Care.
Mac started at Gemini in July of 2017. He quickly became our AM Shift Leader, and was most recently promoted to Daycare & Boarding Manager in September of 2021. He jumped in to lead the team during COVID and filled the gap when former manager Brianna became a groomer.
Mac is our go-to-guy on the forming of our doggie playgroups; among other things, he manages the playlist each day, determining which dogs play in which groups, and keeping track of all the little intricacies of forming safe and fun playgroups.
Mac has a mixed breed pup named Elliott and a Greyhound named Hawkins. He, of course, loves dogs and he would like to become an Animal Behaviorist eventually.
Outside of Gemini Dogs, Mac does a lot of hiking with his dogs and doing animal behavioral work with dogs, to gain experience.
He says his favorite things about working at Gemini Dogs are the dogs and the holiday snacks the parents bring in for the busy staff!
Raechyle Sedlisky
Business Manager
Jacob Koivula
Daycare & Boarding Supervisor & Dog Training Apprentice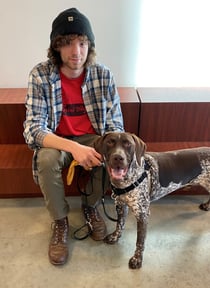 Jacob has been with us since October 2021 and quickly impressed us with his skills and eagerness to learn. He was quickly promoted to shift supervisor and is now working with our University trainers as a training apprentice. He has a German Short Haired Pointer named Dutch.
Olivia Mitchell
Daycare & Boarding Supervisor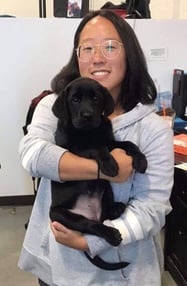 Olivia is certified in PetSaver® CPR, First Aid & Care.
Olivia started at Gemini in April of 2018. She is now our Daycare & Boarding Supervisor, meaning she is in-charge when Mac is not available. She has a bunny, a cat, and a German Shepherd/Great Pyrenees mix named Finn.
She loves working at Gemini and says the people and dogs are all amazing. She especially loves spending time with the Huskies, her favorite breed.
Outside of work, Olivia likes to draw and play video games.
Annie Roberts
Senior Kennel Technician & Dog Training Apprentice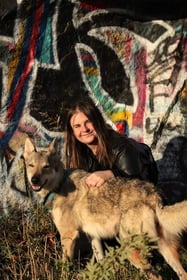 Annie is certified in PetSaver® CPR, First Aid & Care.
Annie joined the Gemini Dogs team in September of 2019. She has spent over 6 years working with dogs in various capacities.
When she isn't at Gemini Dogs, she likes to spend time hiking with her dogs and drawing. She even does a doodle of the "Gemini Dog of the Week" on the staff whiteboard each week.
Annie goes to many dog events and reads, reads, reads; she is a wealth of knowledge about all things dog-related!
Annie was raised in a family that fostered Greyhounds, so she has been around dogs her whole life. Her family was given a Labrador Retriever when Annie was in sixth grade, and about the same time, a neighbor moved in who was a Police K9 Handler; Annie began her serious interest in dogs by training her Lab to do tricks. When she later moved to Alabama, she promptly got a job at the Greyhound Racetrack and a Doggie Daycare & Board-N-Train facility, where she worked for 3 years. Annie also began working at a Wolfdog Rescue while in Alabama. When she moved to Florida, she worked in a Doggie Daycare as well.
Annie has two dogs – a Czechoslovakian Vlcak named Leica and a Karelian Bear Dog mix named Ren. Vlcaks are her favorite breed.
Annie has done cross-country dog transport of Sighthounds, including multiple trips from Birmingham, Alabama to Nove Scotia. She has also dabbled in wildlife rehabilitation.
Annie is a member of the Czechoslovakian Vlcak Club of America (CSVCA). She has taken an Animal Behavior & Welfare course through Cornell University, among others.
Annie also apprenticed in a taxidermy shop for three years as a result of her interest in learning about animals. She is also the most likely staff member to stop everything and rescue a random animal of any species and ensure it gets the care it needs and is safely released back into the wild.
Amanda Murphy
Office Assistant & Kennel Tech
Chad Hinckley
Kennel Tech
James Keefe
Kennel Tech
Lily Morey
Kennel Tech (when she is home from college!)
Madi Reeves
Kennel Tech
Matt Keefe
Kennel Tech
Rosie Wedel
Kennel Tech
Sam Perkins
Kennel Tech
Selina Wilder
Office Assistant
Michelle Doucette, CPDT-KA
Certified Professional Dog Trainer & Training Manager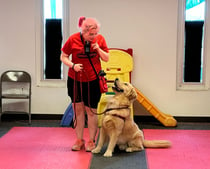 Michelle is certified in PetSaver® CPR, First Aid & Care.
Michelle is a Certified Professional Dog Trainer - Knowledge Assessed (CPDT-KA) and has been a part of the Gemini family since July 2011. She is also an AKC Canine Good Citizen (CGC) and S.T.A.R. Puppy Evaluator.
She has a Pit Bull named Liberty and a mini Dalmatian named Panda (CGC TKI BN TG1). She also lives with a three-legged Husky named Juniper. Her dogs participate in Agility, Nose Work, Rally, Obedience, FastCAT, and Dock Diving. She has attended numerous seminars and training courses and likes to continuously acquire new dog training knowledge. She has fostered, trained, and placed nearly 100 dogs into forever homes.
She graduated with a B.A. in Human Ecology with a focus in Animal Behavior and her senior project was a published work on Canine Body Language and Safety. She also spent a year-and-a-half overseas, teaching English in South Korea and Vietnam. She takes her experience and love of teaching into the training classroom. She also fosters dogs for a rescue organization and has successfully placed over 75 dogs into forever homes.
Her favorite breeds are Pit Bulls, Papillons, and Boston Terriers. She says we couldn't get rid of her even if we tried, because Gemini Dogs is truly her second family! (And believe me, we never would let her go anyway!)
She is the coordinator for all training operations at Gemini Dogs.
Sarah Power, KPA CTP, CPDT-KA
Karen Pryor Academy Certified Training Partner
Certified Professional Dog Trainer
Teacup Dog Agility Association Regional Master Judge
Head University Instructor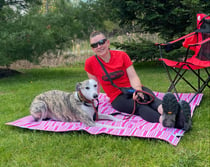 Sarah is an accomplished dog agility competitor (Neptune has earned his C-ATE2, C-ATCH4, & TACH4, Penny TACH and is now retired, Pearl TACH and C-ATCH and is now retired) and is a TDAA Regional Master Judge.
She graduated from Karen Pryor Academy in 2010 and completed the KPA Puppy Start Right course for instructors in 2015.
She is an experienced Dachshund breeder and raises her puppies using Puppy Culture, a special program of age-appropriate exercises, neurological stimulation, and training designed to maximize each puppy's potential. Her puppies are not only outstanding family pets, but have gone on to achieve success in the performance ring and some have even become service dogs.
In addition to training and competition Sarah also enjoys going hiking with her dogs.
Sarah first took classes at Gemini Dogs with her mixed breed girl in the late 90's. She then adopted Jellybean and Penny in 2005, and they started in puppy class and basic obedience, then tried Earth Dog. That's when Penny discovered agility. By 2006, Sarah was taking agility classes with the former owner of Gemini, Carolyn Barney. She later began substitute-instructing for Carolyn's classes. Sarah also began working in the doggie daycare before July of 2007.
Sarah completed her KPA class in 2010 with Carolyn as well. She then worked for Jean McCord and Kathy Austin at Dogs! in Hudson, and later taught some pet dog classes at the Fuzzy Dog in NH for a short time. She then worked for Crossbones Academy in Rhode Island teaching private lessons until January of 2020.
Sarah is a former Volunteer Firefighter has been a 911 dispatcher for over 20 years.
Cara Armour, KPA-CTP
Karen Pryor Academy Certified Training Partner
Cara has been working with dogs professionally since 2003 in many capacities. From dog walker to groomer to holistic pet supply store owner to professional dog trainer.
Having competed in conformation, rally, barn hunt, nose work, fast CAT, CAT and agility Cara finds herself mosty immersed in the world of agility. She loves the complexity of the sport while at the same time watching people build connections with their dogs that they just wouldn't in the "real world". She spends 50 weekends a year trialing, many times hosting trials or volunteering with the numerous clubs she belongs to. She has attended 100's of seminars on various training and pet care related topics as well as having instructed a few herself.
Cara started training her first Boxer in agility back in 2011 and while she tried trialing, trial stress got the better of her dog Artie. In 2013 she aquired a femal Boxer to help imrpove the health issues with her breed and while working on her conformation championship, she started to train her in agility just like Artie. Only Debbie thought agility was amazing and being in the ring excited her. From the start Cara and Debbie were unstoppable.
Here are some of their accomplishments:
First Boxer ever to earn the agility grand championship and still remains the only one to this day
Highest Prefered Master Agility Champion Boxer in history
First Boxer to earn any premier class titles
#3 AKC Top Preferred Dog Overall for 2021
#1 AKC Preferred Working Group Dog 2020 & 2021
#1 AKC Preferred Agility Boxer for 2018, 2019, 2020 & 2021
2019 Finalist for AKC Agility Invitationals, placed 8th
2020 Finalist for AKC Agility Invitationals, placed 2nd
Westminster Master Agility Competitor for 2019, 2020, 2021 & 2022 (2022 show happens on June 18, 2022 at the Lyndhurst Mansion in NY)
National Agility Champion Qualified Competitor for 2018, 2019, 2020, 2021 & 2022
2021 AKC Agility Premier Cup Competitor and qualifier
#1 Preferred Working Group Dog 2020 & 2021
#2 2020 Working Group for AKC Invitationals
Placed several times at conformation specialties
Together they have written history. Debbie has also produced 2 litters with many titled offspring including 2 that Cara kept who have 7 Master Agility Championships between them. With all her dogs Cara has earned 17 Master Agility Championships, a conformation championship and over 200 titles on her dogs in various competitions as well as tricks and canine good citizen.
Cara's passions are working with puppies, trial stress and agility prospects. From the recreational agility team to the competitive exhibitors, she loves to share the great sport and all the facets of training with each and every team.
She shares her life with 4 Boxers ranging in age from 9 years old to just one years old and a 15 year old cat who rules the house.
Jennifer Boxell, CPDT-KA
Certified Professional Dog Trainer
University Instructor & Rally Instructor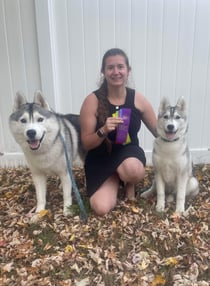 Jen is an emergency Certified Veterinary Technician graduating from Becker college in 2018 with a degree in Veterinary Technology and a minor in animal behavior. She discovered during her working career that dog behavior and training is just as essential to the health and well being of dogs as the actual medicine. Thus, sparking her interest into dog training.
She grew up attending various dog training classes with her family pets which inspired her to go into the animal field. She always had a fascination and love for huskies, so in 2020 she was accepted and got the opportunity to travel to Alaska to work as a veterinary technician and dog handler at the Iditarod sled dog race. There, she learned about sled dog behavior and care which helped her understand the mindset of huskies and allowed for a better basis on how to train them. She now returns every year to work the Iditarod sled dog race to expand her knowledge as well as appreciate huskies doing what they do best.
She adopted her first dog in 2020, a Siberian Husky named Denali. She began his training and discovered the world of dog sports and competition. Being a competitive softball player all her life this is just the kind of competitiveness that she needed combined with her love and passion of dogs. After the pandemic and training classes opened again, her and Denali earned his AKC canine good citizen title (CGC) then moved onto his AKC community canine title (CGCA).
She also competes in AKC conformation events with the goal of earning his champion title. At this time they have accomplished many points and is AKC major pointed. Wanting to continue his obedience training after CGC, they starting his rally career. At this time they have earned his rally novice, intermediate, and advanced titles. They also compete in AKC fast cat (FCAT) events.
In June 2022 she adopted her 2nd dog who is also a Siberian Husky named Kinley. Together they compete in AKC conformation and rally events as well. In conformation, Kinley has completed her Puppy of Achievement (POA) and in the 4-6month confirmation has multiple group placements as well as first in variety group. At just 6 months, she took winners bitch for a major. Also at 6 months in rally she has 2 qualifying scores to her novice title.
Jen has a passion for helping dogs be the best they can be as well as improving the relationship between owners and their dogs. She believes in the power of training and spending time with your dog to help create the happiest life for both owners and their dogs.
Alicia Kerr
Agility Instructor
Emma Parsons, CDBC
Certified Dog Behavior Consultant
Brianna Rich
Groomer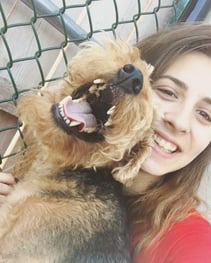 Brianna is certified in PetSaver® CPR, First Aid & Care.
Brianna started at Gemini Dogs in May of 2017. She became the Morning Shift Leader and was eventually promoted to the position of Daycare & Boarding Manager when Jess moved up. In February of 2021, she became our new groomer, after apprenticing with Jess. Brianna is attending her first Grooming Expo in October of 2021, and we are excited to see her continue to learn and grow as a groomer.
Brianna has a cat at home named Drumstick, and her favorite dog breeds are Great Danes and Corgis.
Outside of work, she enjoys hiking and playing video games. She dreams of one day opening her own rescue.
Paige Roy
Groomer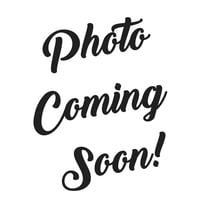 Bio coming soon!
Skylar Kuczwara
Overnight Supervisor & Bather/Brusher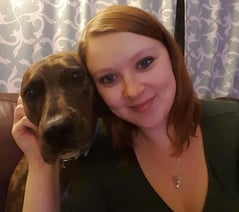 Skylar is certified in PetSaver® CPR, First Aid & Care.
Skylar first worked at Gemini Dogs back in 2009 as a Kennel Tech. She also assisted Mich and Penny with scoring at their CPE Sanctioned Agility trials.
She moved away to attend college at BCC where she earned her Associates degree in General Health Sciences. She found a new job at Petco working as a bather/brusher for 2 years, where she was trained to do baths, brushing, nail trims, ear cleaning, ear plucking, and anal gland expression.
She returned to Gemini Dogs in 2014 as the Assistant Manager and Groomer. She attended the annual Daycare and Boarding Expo in Hartford, CT where she studied dog behavior and proper playgroup etiquette.
After she started her own family in 2015, she became a stay-at-home mom for a short time, then returned to work and is now in charge of the overnight staffing of the facility. We put a lot of trust in Skylar's ability to manage a medical emergency, which is why we trust her to stay here with the pups on the overnight shift!
Skylar recently began working on an Associates degree in Business Administration with a concentration in Accounting, so she started assisting Mich & Penny with the billing tasks at Gemini Dogs, and has become invaluable yet again, as an employee. Skylar will be taking over the majority of our Accounting tasks going forward, to help free up Mich & Penny to come up with new and exciting ways to make Gemini Dogs even better!
Skylar has two little (human) girls, a Plott Hound named Danni and a Boxer mix named Priya. She enjoys spending time with her family and reading whenever she gets a quiet moment. Her favorite breed is anything in the Hound family.