Group Training Classes
Gemini Dogs offers a range of training classes for dogs of all ages, types, and sizes.
Effective Training through Education and Positive Reinforcement
At Gemini Dogs, we emphasize the fun and love in everything we do by teaching positive reinforcement through clicker training. Our training methods are based on proven scientific theory, not punishment. We truly believe that training and behavior modification should be safe, enjoyable, and successful for both you and your dog!
We believe in continued education for all of our trainers through programs such as educational conferences, seminars, videos, and the latest published information. Our staff members are also members of the Association of Pet Dog Trainers (APDT), a national organization that believes that all dogs are effectively trained through dog-friendly techniques and therefore are lifelong companions in a relationship based on mutual trust and respect.
Class Offerings
>>CLICK HERE<< to view our current class schedule.
The following classes are offered at Gemini Dogs:
Puppy Classes:

Puppy Preschool
(AKC S.T.A.R. Puppy)

Click Here for Class Description


Obedience Classes:

Beginner Obedience (Level 1)
Intermediate Obedience (Level 2)
Advanced Obedience (Level 3)
Drop-In Obedience

Life Skills [April-October]

AKC Canine Good Citizen (CGC) Prep & Test




Click Here for Class Descriptions

Other Classes:

Tricks! (Novice)
Tricks! (Intermediate)
Impulse Control
Confidence Building
Attention/Focus
Recall Workshop
Walking on Leash
K9 Fitness
Structured Group Hikes [March-October]
Veterinary Handling
Social Club (click here for info)

Click Here for Class Descriptions

Dog Sports

Agility:

Puppy Agility
Beginner I Agility
Beginner II Agility
Beginner III Agility
Intermediate Agility
Recreational Agility (Beginner II - Intermediate Levels)
Advanced Handling Agility
Advanced Competition Agility

Rally:

Rally Novice (Intro)
Rally Intermediate
Rally Advanced
Competition Rally Prep
Rally Run Thrus

Click Here for Class Descriptions
>>CLICK HERE<< to view our current class schedule.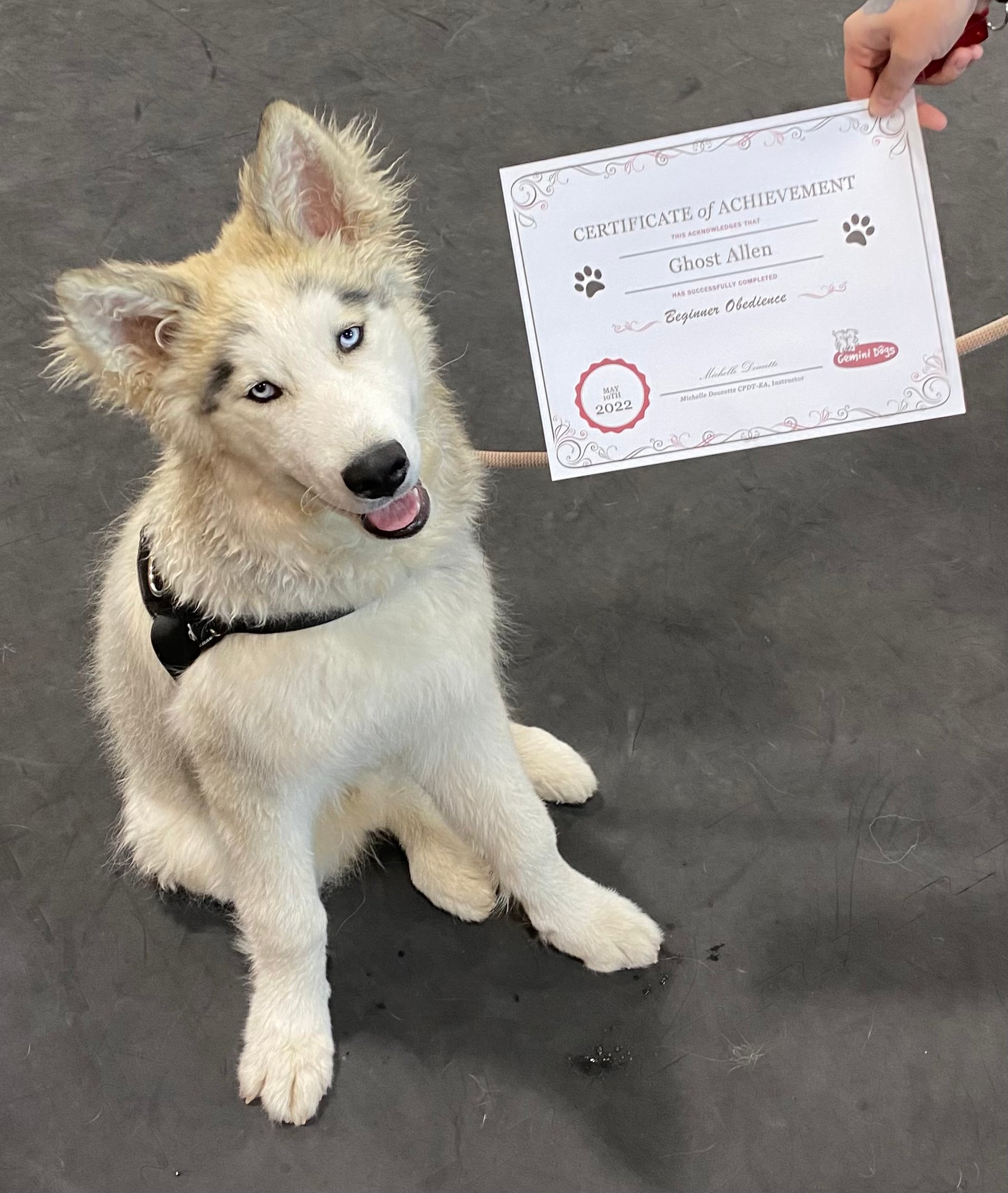 Cost
Puppy Preschool:
Beginner Obedience:
$240 for 7 weeks

(

no dogs week one - just humans!)
Advanced Obedience, Life Skills, Attention/Focus, Rally Advanced, & Tricks:
Social Club:
Structured Hikes:
Drop-In Obedience:
Rally Run Thrus
All other classes:
Obedience classes are 50 minutes in length and Dog Sport classes are 60 minutes. Social Club is 30 minutes.
Finished a class and want to view your graduation class photo? Click here.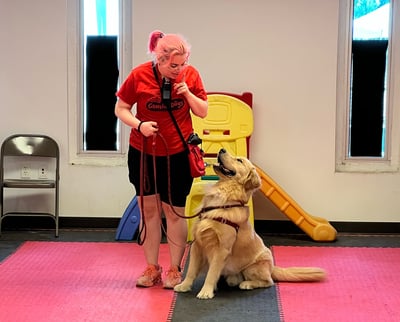 Training Manager, Puppy & Obedience Instructor, CGC Evaluator

Michelle is certified in PetSaver® CPR, First Aid & Care.
Michelle is a Certified Professional Dog Trainer - Knowledge Assessed (CPDT-KA) and has been a part of the Gemini family since July 2011. She is also an AKC Canine Good Citizen (CGC) and S.T.A.R. Puppy Evaluator.
She has a Pit Bull named Liberty and a mini Dalmatian named Panda (CGC TKI RN BN TG3 TBAD). She also lives with a three-legged Husky named Juniper. Her dogs participate in Agility, Nose Work, Rally, Obedience, FastCAT, and Dock Diving. She has attended numerous seminars and training courses and likes to continuously acquire new dog training knowledge. She has fostered, trained, and placed nearly 100 dogs into forever homes.
She graduated with a B.A. in Human Ecology with a focus in Animal Behavior and her senior project was a published work on Canine Body Language and Safety. She also spent a year-and-a-half overseas, teaching English in South Korea and Vietnam. She takes her experience and love of teaching into the training classroom. She also fosters dogs for a rescue organization and has successfully placed over 75 dogs into forever homes.
Her favorite breeds are Pit Bulls, Papillons, and Boston Terriers. She says we couldn't get rid of her even if we tried, because Gemini Dogs is truly her second family! (And believe me, we never would let her go anyway!)
She is the coordinator for all training operations at Gemini Dogs.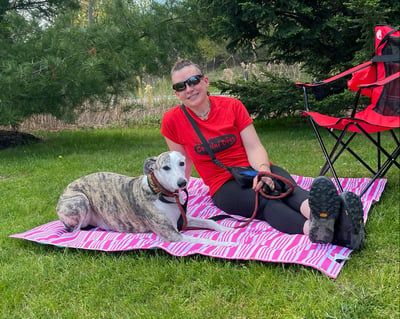 Karen Pryor Academy Certified Training Partner
Certified Professional Dog Trainer
Teacup Dog Agility Association Regional Master Judge
Head University Instructor
Sarah is an accomplished dog agility competitor (Neptune has earned his C-ATE2, C-ATCH4, & TACH4, Penny TACH and is now retired, Pearl TACH and C-ATCH and is now retired) and is a TDAA Regional Master Judge.
She graduated from Karen Pryor Academy in 2010 and completed the KPA Puppy Start Right course for instructors in 2015.
She is an experienced Dachshund breeder and raises her puppies using Puppy Culture, a special program of age-appropriate exercises, neurological stimulation, and training designed to maximize each puppy's potential. Her puppies are not only outstanding family pets, but have gone on to achieve success in the performance ring and some have even become service dogs.
In addition to training and competition Sarah also enjoys going hiking with her dogs.
Sarah first took classes at Gemini Dogs with her mixed breed girl in the late 90's. She then adopted Jellybean and Penny in 2005, and they started in puppy class and basic obedience, then tried Earth Dog. That's when Penny discovered agility. By 2006, Sarah was taking agility classes with the former owner of Gemini, Carolyn Barney. She later began substitute-instructing for Carolyn's classes. Sarah also began working in the doggie daycare before July of 2007.
Sarah completed her KPA class in 2010 with Carolyn as well. She then worked for Jean McCord and Kathy Austin at Dogs! in Hudson, and later taught some pet dog classes at the Fuzzy Dog in NH for a short time. She then worked for Crossbones Academy in Rhode Island teaching private lessons until January of 2020.
Sarah is a former Volunteer Firefighter has been a 911 dispatcher for over 20 years.
Karen Pryor Academy Certified Training Partner
Cara has been working with dogs professionally since 2003 in many capacities. From dog walker to groomer to holistic pet supply store owner to professional dog trainer.
Having competed in conformation, rally, barn hunt, nose work, fast CAT, CAT and agility Cara finds herself mosty immersed in the world of agility. She loves the complexity of the sport while at the same time watching people build connections with their dogs that they just wouldn't in the "real world". She spends 50 weekends a year trialing, many times hosting trials or volunteering with the numerous clubs she belongs to. She has attended 100's of seminars on various training and pet care related topics as well as having instructed a few herself.
Cara started training her first Boxer in agility back in 2011 and while she tried trialing, trial stress got the better of her dog Artie. In 2013 she aquired a femal Boxer to help imrpove the health issues with her breed and while working on her conformation championship, she started to train her in agility just like Artie. Only Debbie thought agility was amazing and being in the ring excited her. From the start Cara and Debbie were unstoppable.
Here are some of their accomplishments:
First Boxer ever to earn the agility grand championship and still remains the only one to this day
Highest Prefered Master Agility Champion Boxer in history
First Boxer to earn any premier class titles
#3 AKC Top Preferred Dog Overall for 2021
#1 AKC Preferred Working Group Dog 2020 & 2021
#1 AKC Preferred Agility Boxer for 2018, 2019, 2020 & 2021
2019 Finalist for AKC Agility Invitationals, placed 8th
2020 Finalist for AKC Agility Invitationals, placed 2nd
Westminster Master Agility Competitor for 2019, 2020, 2021 & 2022 (2022 show happens on June 18, 2022 at the Lyndhurst Mansion in NY)
National Agility Champion Qualified Competitor for 2018, 2019, 2020, 2021 & 2022
2021 AKC Agility Premier Cup Competitor and qualifier
#1 Preferred Working Group Dog 2020 & 2021
#2 2020 Working Group for AKC Invitationals
Placed several times at conformation specialties
Together they have written history. Debbie has also produced 2 litters with many titled offspring including 2 that Cara kept who have 7 Master Agility Championships between them. With all her dogs Cara has earned 17 Master Agility Championships, a conformation championship and over 200 titles on her dogs in various competitions as well as tricks and canine good citizen.
Cara's passions are working with puppies, trial stress and agility prospects. From the recreational agility team to the competitive exhibitors, she loves to share the great sport and all the facets of training with each and every team.
She shares her life with 4 Boxers ranging in age from 9 years old to just one years old and a 15 year old cat who rules the house.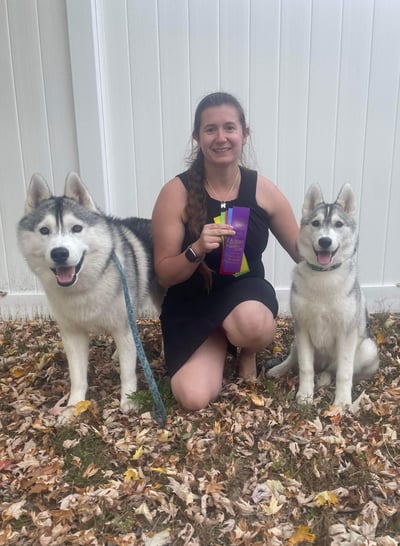 Certified Professional Dog Trainer
University Instructor & Rally Instructor
Jen is an emergency Certified Veterinary Technician graduating from Becker college in 2018 with a degree in Veterinary Technology and a minor in animal behavior. She discovered during her working career that dog behavior and training is just as essential to the health and well being of dogs as the actual medicine. Thus, sparking her interest into dog training.
She grew up attending various dog training classes with her family pets which inspired her to go into the animal field. She always had a fascination and love for huskies, so in 2020 she was accepted and got the opportunity to travel to Alaska to work as a veterinary technician and dog handler at the Iditarod sled dog race. There, she learned about sled dog behavior and care which helped her understand the mindset of huskies and allowed for a better basis on how to train them. She now returns every year to work the Iditarod sled dog race to expand her knowledge as well as appreciate huskies doing what they do best.
She adopted her first dog in 2020, a Siberian Husky named Denali. She began his training and discovered the world of dog sports and competition. Being a competitive softball player all her life, this was just the kind of competitiveness that she needed combined with her love and passion of dogs. After the pandemic and training classes opened again, her and Denali earned his AKC Canine Good Citizen title (CGC) then moved onto his AKC Community Canine title (CGCA).
She also competes in AKC conformation events with the goal of earning his champion title. At this time they have accomplished many points and he is AKC major pointed. Wanting to continue his obedience training after CGC, they starting his rally career. At this time, they have earned his rally novice and intermediate titles. They also compete in AKC Fast Cat (FCAT) events.
In June 2022 she adopted her 2nd dog who is also a Siberian Husky named Kinley. Together they compete in AKC conformation and rally events as well. In conformation, Kinley has completed her Puppy of Achievement (POA) and in the 4-6month confirmation has multiple group placements as well as first in variety group. At just 6 months, she took winners bitch for a major. Also at 6 months in rally she has 2 qualifying scores to her novice title.
Jen has a passion for helping dogs be the best they can be as well as improving the relationship between owners and their dogs. She believes in the power of training and spending time with your dog to help create the happiest life for both owners and their dogs.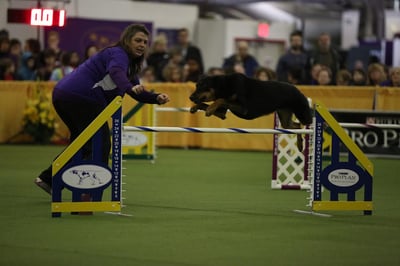 Agility Instructor
Maureen McLatchy has been actively training and showing dogs since 1988. She originally started in obedience trials and later added conformation shows, hunting tests, field trials and rally with her multi generations of homebred Gordon Setters. She has put over 275 titles on her own dogs as well as over 100 on other people's dogs.
In 2000 she began trialing in agility and that has been the main focus since as the dogs really loved the sport. She has put 18 Agility Championships in AKC and USDAA (MACH, PACH, ADCH, PDCH) on her Gordons Setters, Beaucerons, and a Papillon. Her dogs have also been multi-time finalists at the AKC Agility Invitational and Westminster and have many individual placements in rounds at AKC Nationals, Invitational and Westminster.
Maureen enjoys teaching agility and is very proud of her students and all of their accomplishments.