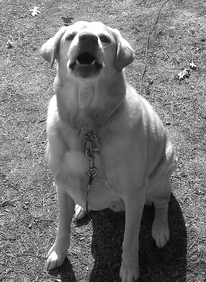 Hey everybody, my name is Cisco and I am a true Gemini Dog. I just wanted to tell you about a great program that Gemini Dogs recently started. They began working with Labrador Retriever Rescue to provide a temporary home for local Labs (like me) who are in need of immediate foster care.
You see, when I was surrendered, a foster home was not readily available for me, so the rescue coordinator contacted Gemini Dogs. Together, they arranged for me to come and stay here at Gemini Dogs (and participate in doggie daycare) until I could be adopted to my forever home. The staff spent some time training me, and I got some extra one-on-one time, too.
I eventually found a wonderful family through Lab Rescue. My new mommy recently registered me for grooming, and she sent this note along with my picture:
"Sending a recent picture for Cisco's Gemini family. The Gemini family is so caring and was so good to Cisco. I appreciate each and every one of you. Thank you for taking such great care of him. He's very happy and we love him to pieces!" ~Judi
Wasn't that nice? And if you think I'm cute, you should see the new Lab that is staying at Gemini Dogs right now. He's a chocolate Lab named Buddy, and he is still pretty young, but he's a big boy, like me. I saw him the other day, and he told me to put in a good word for him...so, if you have room in your heart for a young, active Lab, please contact Lab Rescue to see if Buddy would be a good fit for your family!