A dog's coat (their own fur) is designed to protect the dog, but if you clip or shave longer-haired canines (like poodles) you've altered their body's natural protection. A light jacket can help compensate. But when temperatures drop into the teens and below, many dogs get cold. If you're headed out into wintry weather (especially when it's also rainy and wet), an insulated, waterproof jacket is a good idea. Just keep in mind that too high a temperature is more of a risk to your dog's health than too low a temperature; if you have a long-haired dog, he does not need a sweater or a bulky coat. A lightweight waterproof jacket is all you need, and depending on your dog, maybe not even that. (For example, Huskies do not need any sort of additional coat.)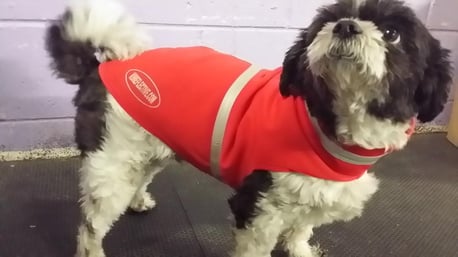 Find a Jacket That:
- Is Made of Thin Fabric
- Is Waterproof or at Least Water-Resistant
- Is Easy to Get On and Off
- Fits Snugly
- Ends at the Base of the Tail
- Leaves his Legs Free (so he can walk, run, and relieve himself)
- Doesn't Rub and Cause Skin Irritations
Why Not Buy a Heavier Coat?
Technically, dogs are already wearing one coat! Veterinarians actually recommend against bulky dog coats for long-haired, larger breeds because these dogs are naturally predisposed to survive cold temperatures. A heavy coat may actually cause your dog to overheat, as it impedes your dog's ability to regulate their own body temperature. Dogs have actually developed a very effective method of controlling their body temperature. Their own coat protects them from the elements, and is easily adjusted.
What About Thin-Coated Dogs?
Some breeds were never meant for harsh winter climates. And tiny breeds especially may need a little help keeping warm, as they pick up the chill radiating from the frozen ground. Small breeds with very short fur, and lean dogs with very short fur, are less able to deal with winter temperatures. Dogs recovering from an illness/injury may also be more sensitive to cold, as are senior dogs and young puppies. Heat regulation begins to decline with age, so a sweater isn't a bad idea for older dogs. Hypothyroidism, Cushing's disease, and arthritis affect the skin and joints in ways that warrant the use of a nice warm sweater. Basically, if your dog tends to shiver in the cold, consider a more dense coat or sweater. Just be sure to have several on hand, so that you aren't putting a wet sweater on him...that could be worse than no sweater!
Don't forget to protect those paws. Paws can crack, bleed, and even get frostbite. You need to be sure that you clean your dog's paws off every time they come indoors, to keep the salt, ice chips, and melting snow from getting stuck between your dog's paw pads. Booties can prevent skin irritations and infections on your dog's sensitive paws, but not all dogs will accept wearing the booties. Always try them out first; preferably allowing the dog to walk around the store wearing them for a minute to be sure they can figure them out.
Don't Forget About the Car
When the weather is very cold — regardless of whether your dog has a sweater or jacket
—
never leave him in a car. He can freeze to death just as easily as he can die of heatstroke.