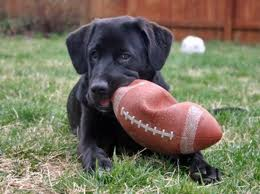 You've spent a lot of time planning your perfect Thanksgiving meal. You've done your shopping, you've decorated, and now you wake up early to put the finishing touches on your family's Thanksgiving Day table. Your guests will be arriving soon, and as you check the turkey and hurry to get everything just right before the doorbell rings, you realize that Fido never got his morning walk. No worries, you can just put him out in the yard for a few minutes and let him get some energy out before everyone arrives, right? Well, Fido has other plans. He's very interested in what you've got going on in that kitchen; it smells so yummy!
Fido just stands at the back door, scratching and barking, as if to say, "Hey, I don't want to be out here alone, could I just come in and get some samples?!?"
As you close the back door after letting him in from that unsuccessful potty break, you hear the doorbell. Fido is already there, wagging away, and barking hello. You open the front door to invite your brother and his family inside, and Fido jumps up to welcome your sister-in-law with a big wet kiss. She smiles and says, "Oh, it's fine," as you apologize...but then you notice that nice brown paw print on her pretty new skirt.
The kids have arrived, and Fido is keeping them busy by chasing them around the living room and under the table. Oops! Someone knocked the table, and that beautiful vase almost spilled all over your perfectly-set table!
Okay, so maybe this is a little too much excitement and activity for Fido. Time to take him upstairs. You can just crate him while your company is here, and he'll be fine, right?
Guess again. About 10 minutes into dinner, Fido starts barking upstairs. (Sounds like someone finally decided that he needs to go potty.) You excuse yourself from the table, and run up to get Fido and take him outside. He makes a pit stop at the table, hoping that your guests will take pity on him, and offer him a slice of that yummy turkey!
You finally get him outside and sit back down to your guests...and that's when it hits you...why didn't you just take Fido to Gemini Dogs for the day? You were up early, you sent your hubby out to grab that last-minute item at the store; he could have just dropped him off on the way.
Fido could be playing with his buddies right now, romping around and having the time of his life. Instead, he has been relegated to the back yard (or to his crate), and you are constantly being interrupted while you try to balance your guests' needs and your dog's needs. And now you feel guilty for not thinking of this solution sooner...
But wait! The good news is, none of this has even happened yet! Fido (and you) will be much happier if he spends the day with us at Gemini Dogs, so let's make that reservation now.
Gemini Dogs is open every day of the year (weekends and holidays included) from 6am-10pm. Current family members can make an express reservation online, call us at 978-486-9922, or even just drop in on Thanksgiving morning, if you can't decide yet! If you are new to Gemini Dogs, don't worry, you still have time to register! Just apply for overnight boarding online.
Let us entertain Fido so that you are free to entertain your guests...
And don't worry, our Thanksgiving guests get a little turkey dinner, too!
Woof!