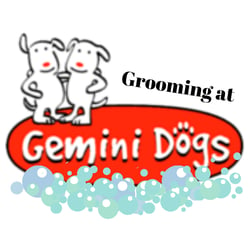 Grooming
Full service grooming Monday-Friday and Bath & Nails during weekend boards.
By appointment only.
Full-Service Grooming Available:
Tuesday through Friday with Brianna
Friday through Monday with Paige
Bath, Nails, & Trim-Ups Available:
Friday nights with Skylar for

Boarding

dogs (Services are performed before the dogs go to bed for the night!)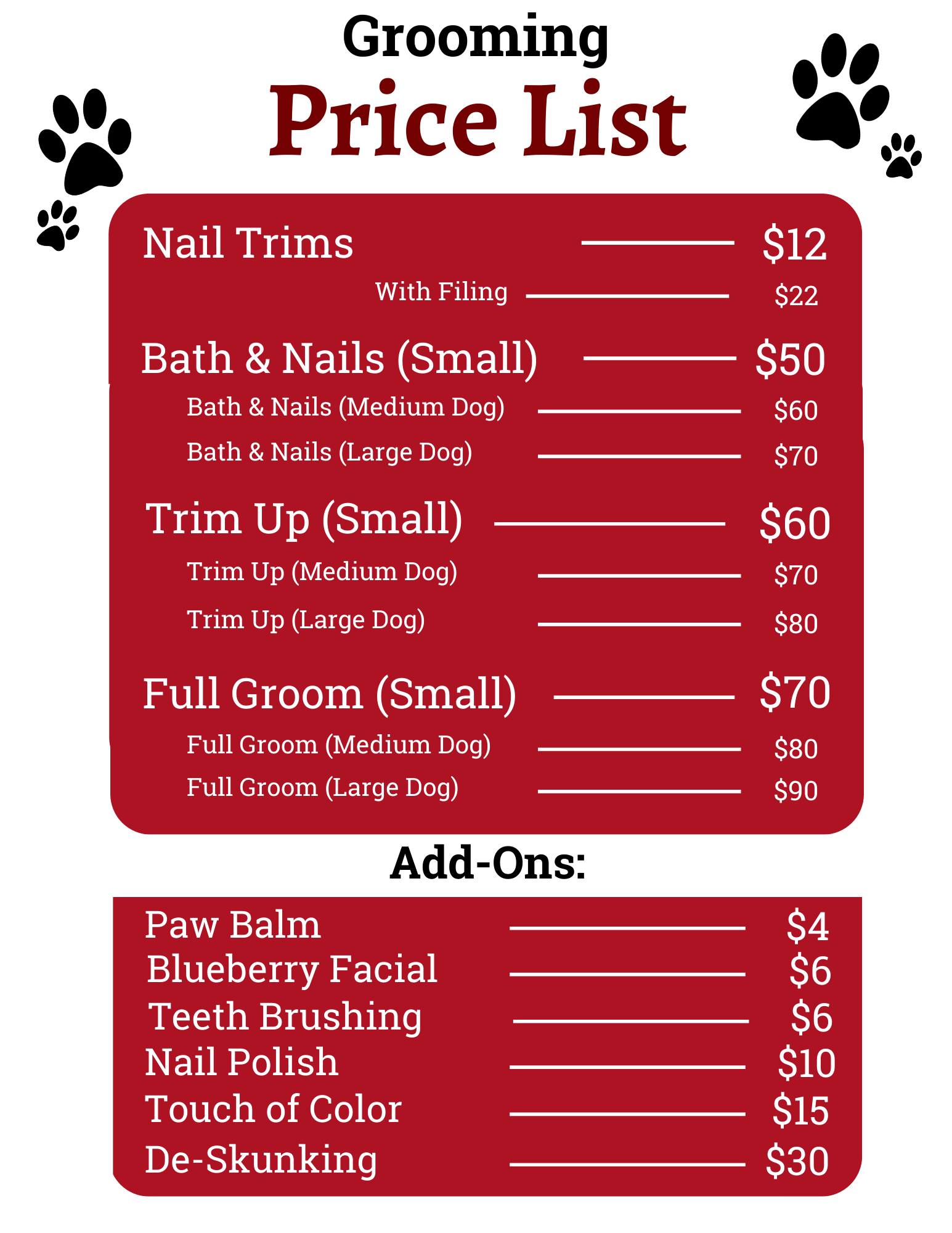 Scroll down for Descriptions of our grooming services.
Please note: Bath & Grooming Services start at above prices.
Some breeds are not eligible for simple "Bath" pricing; certain dogs cannot be washed without a LOT of brushing and hand-drying, especially if they are matted. This depends on breed and condition of coat. If you have a Lab, Beagle, or similarly coated dog, a bath should be okay.
How Do I Set Up a Groom for My Dog?
1. Complete the online reservation form:
2. If needed, your groomer will contact you via email to discuss your dog and any special requirements, or if there are any questions. She may need to find an alternative time if your requested date is unavailable. You can also arrange for a phone call back if you would prefer. (Please note that the groomer cannot always take phone calls immediately, as she may have a dog in the tub or on the grooming table, so for the safety of our dogs, we will generally return your call if there are questions.)
3. We will book your appointment and get your reservation entered in our scheduling system.
4. You will receive an automatic email confirming the booking.
5. Drop your dog off at your scheduled grooming appointment time (or anytime after 6am on the day of your dog's groom if they are attending daycare.
6. Wait for a email from us, informing you that your dog's grooming is complete. Once you receive this email, your dog is ready for pick up. If your dog is a current daycare dog, feel free to pick up your dog at the doggie daycare anytime AFTER that pickup time, up until 10pm.You will incur a daycare charge if your dog stays over an hour after you are notified that your groom is complete.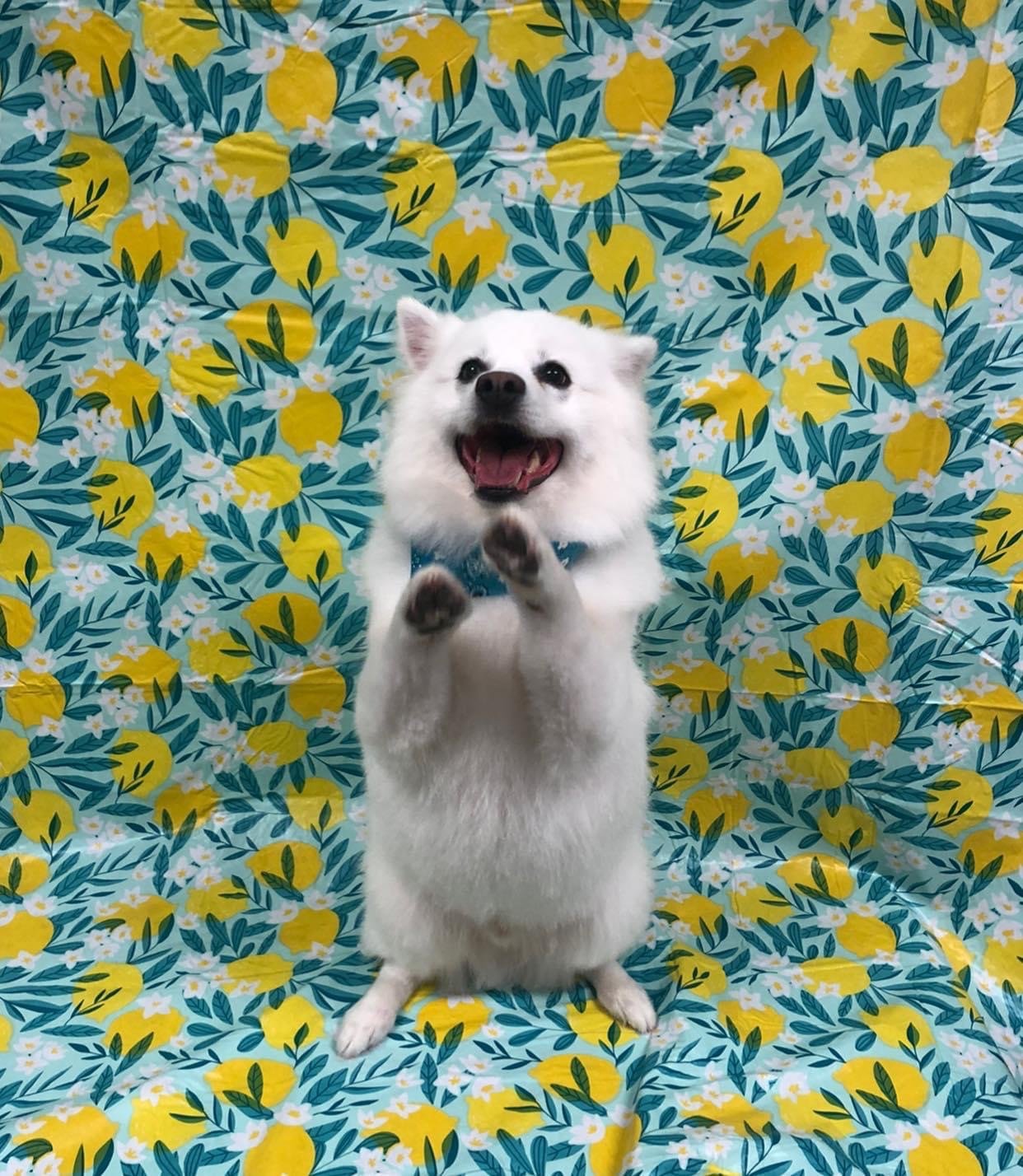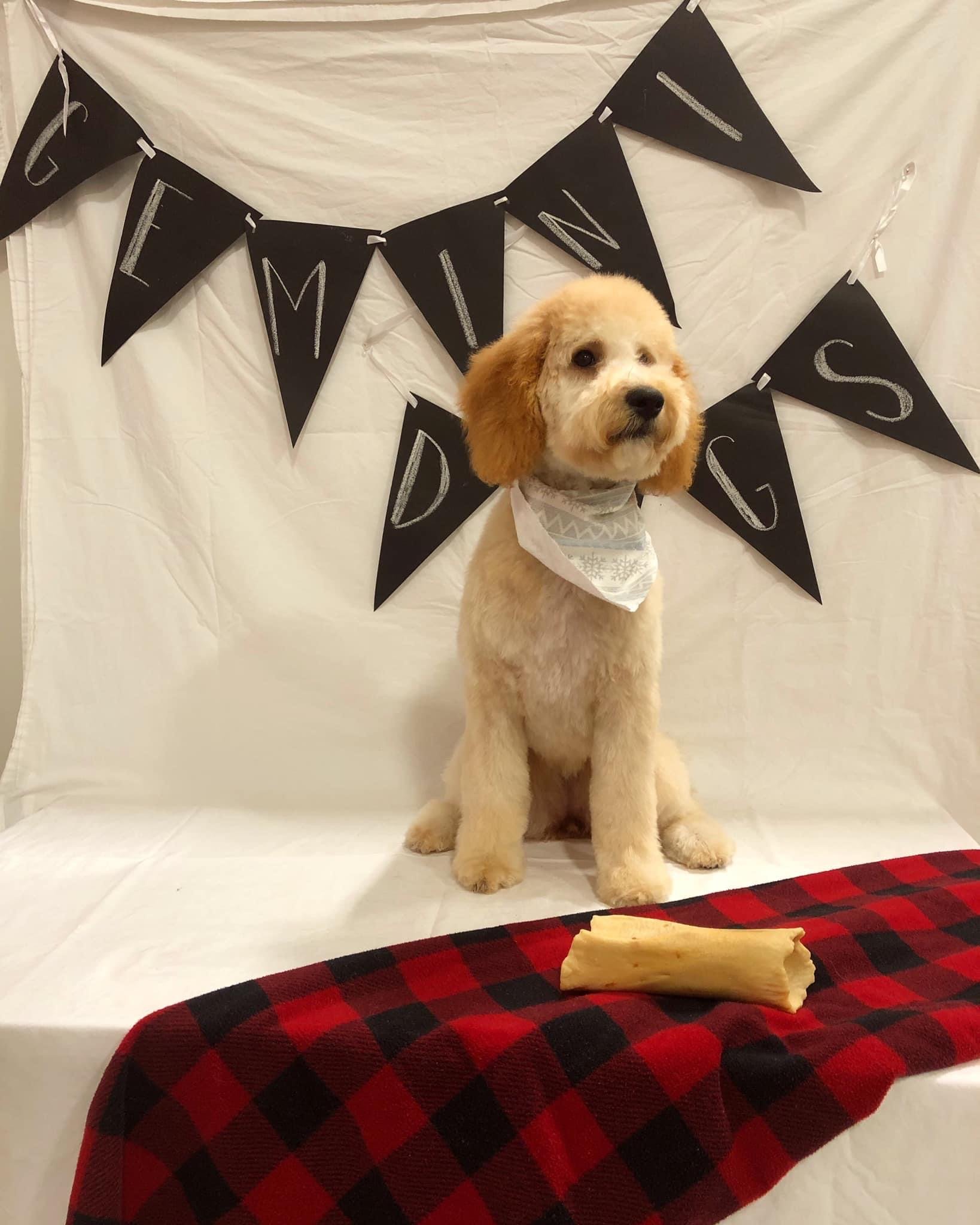 Drop-Off & Pick-Up
Dogs can be dropped off between 9:00am-1:00pm, at the doggie daycare entrance. Please note, if your dog stays at daycare over an hour after we have called to tell you your pup is done, there will be a half or full day charge for daycare. Also, If your pup is dropped off long before your scheduled grooming time, you will be charged for a half day of daycare ($26).
You will receive an email as well as a call from the groomer when your dog's groom is complete.
Please be aware:
We cannot promise a particular pickup time until the groomer actually starts working on the dogs

.

For grooming and baths, always be prepared to have your doggie stay here beyond your normal pick-up time (full grooms may not be ready for pickup until 5pm). If you have requested a simple nail trim, you may pick up your dog as usual.

Why? Sometimes we want to give your dog a break from all that standing and brushing and drying, so it can take what seems like a long time.
Bath & Nails Starting at $50/$60/$70
Includes:
Bath & Blow-Dry
Brush out
Ear check/clean
Nail trim


Trim Up Starting at $60/$70/$80
Includes:
Bath & Blow Dry

Brush Out

Ear check/clean

Light haircut focuses on face, feet, & sanitary areas

Nail Trim
Full Groom Starting at $70/$80/$90
Includes:
Bath & Blow-dry
Brush out
Ear check/clean
An all-over haircut following either the AKC breed standard guidelines or tailored to your specific maintenance and lifestyle preferences, as specified in the Grooming Notes of your online reservation form.
Nail trim
Nail Trim $12
Each nail is clipped as short as possible with a pair of nail clippers (does not include filing the nails smooth).
Nail Trim & File $22
Each nail is trimmed with clippers and then smoothed & rounded with a motorized dremmel, which files them smooth.
Pawdicure $32

Nail Trim & File

Home-made Sugar Scrub
Soothing, Protective Paw Balm
De-Skunking Treatment $30
The smell just never seems to go away, right? Let us try a specialized blend of skunk shampoo!
Anal Gland Expression $25
Is your dog dragging his bum around? Skylar can help them express their anal glands. (available on Mondays and during weekend overnight baths ONLY)
A La Carte Services:
Blueberry Facial $6
De-Skunking Treatment $30
Touch Of Color $10

Teeth Brushing $6

Nail Polish $6

Paw Balm $4

Flea & Tick Prevention Shampoo $10


*Never bring your dog into our facility with an active flea infestation*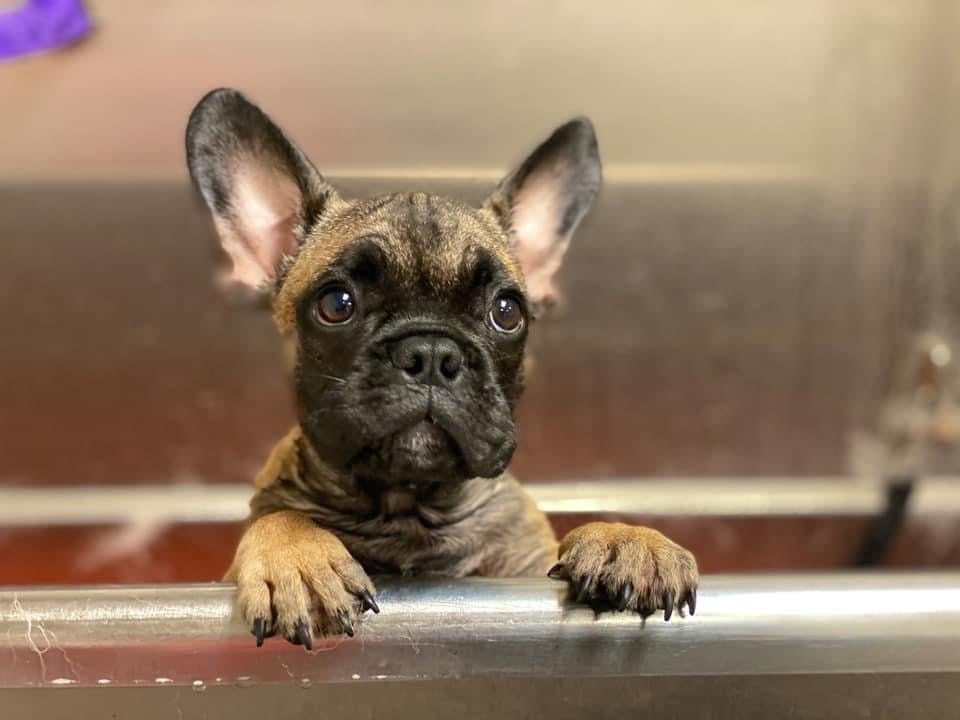 Available Shampoos:
Papaya & Coconut
Oatmeal & Tea Tree
Spring Showers
Mandarin Citrus
Flea & Tick Prevention

*Never bring your dog into our facility with an active flea infestation*

Brianna Rich
Head Groomer
Brianna is certified in PetSaver® CPR, First Aid & Care.
Brianna started at Gemini Dogs in May of 2017. She became the Morning Shift Leader and was eventually promoted to the position of Daycare & Boarding Manager. In February of 2021, she became our new groomer, after apprenticing with Jess. Brianna attended her first Grooming Expo in October of 2021 and we are excited to see her continue to learn and grow as a groomer.
Brianna has a cat at home named Drumstick, and her favorite dog breeds are Great Danes and Corgis.
Outside of work, she enjoys hiking and playing video games. She dreams of one day opening her own rescue.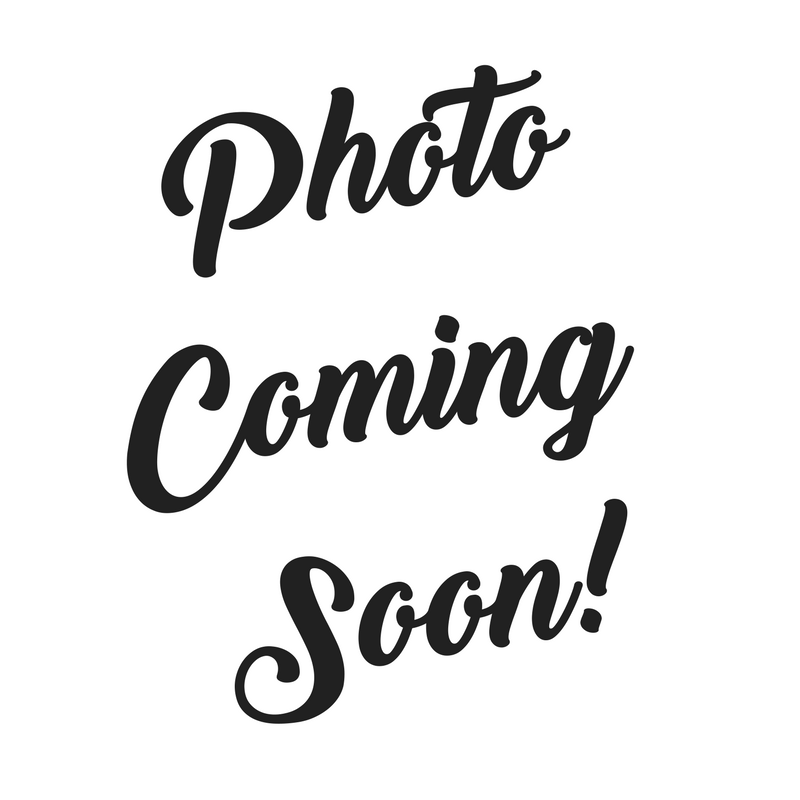 Skylar Kuczwara
Groomer
*Please Note: Skylar's services are only available on Mondays and for boarding dogs on Thursday, Friday, and Sunday evenings.
Skylar is certified in PetSaver® CPR, First Aid & Care.
Skylar first worked at Gemini Dogs back in 2009 as a Kennel Tech, and was promoted to Assistant Manager before leaving to start her own family. She is now the Overnight supervisor.
Skylar has several years of experience as a bather/brusher, and is trained to do baths, brushing, nail trims, ear cleaning, ear plucking, and anal gland expression. She is training with our former groomer Jess to do full grooms.
She is available for grooming services on Mondays and prior to her Overnight Supervisor shifts at Gemini Dogs on Thursdays, Fridays, and Sundays.
Skylar has two little (human) girls, a Plott Hound named Danni and a Boxer mix named Priya. She enjoys spending time with her family and reading whenever she gets a quiet moment. Her favorite breed is anything in the Hound family.