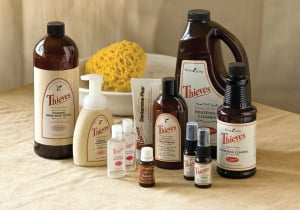 Thieves essential oil blend has become our go-to cleaner here at Gemini Dogs, as well as in our home. As you look towards Spring, we all start thinking of Spring Cleaning. And if you're like me, you've started paying attention to the fact that so many of the cleaning products have harsh and damaging chemicals, which cause untold numbers of health problems and can cause numerous diseases in both humans and dogs.
The solution? Look to Young Living Essential Oils for an all-natural, holistic approach to cleaning. Just add some of the Thieves Household Cleaner in a glass spray bottle, fill with water, and use it to quickly spray and wipe your surfaces. The oils in the formula deodorize and protect your home.
We use Thieves exclusively now here at Gemini Dogs, for all of our cleaning needs. We use Thieves Household Cleaner to clean the crates after each use, to mop the floors, to sanitize the bowls and buckets, and more.
The amazing power of the Thieves will destroy mold, including air-borne mold, and is well-documented in Nature's Mold Rx: The Non-Toxic Solution to Toxic Mold by Edward R. Close, Ph.D. Household cleaner can also be used as a bug repellant. In Essential Oils for Horse and Rider, you can see a demonstration of mixing the Thieves Household Cleaner with water and apple cider vinegar to keep flies away from horses.
Suggested Dilutions for Thieves Household Cleaner
Light degreasing 60:1
Medium degreasing 30:1
Heavy degreasing 15:1
Floors 100:1
Walls 30:1
Upholstery, fabrics and carpet spotting 40:1
Carpet 100:1
Glass 320:1
Pots and pans 100:1

Hand cleaner 1:1
This essential oil blend's name comes from its origin, during the Bubonic Plague.
Thieves were robbing those who had succumbed to the illness, but we're able to do so without becoming deathly ill themselves. Their defense was to wear a mask filled with a combination of herbs, spices, and essential oils. When they were finally caught and placed on trial for their crimes, they were granted leniency for revealing the recipe of this life-saving concoction. That recipe is the foundation for Young Living's modern Thieves blend.
Thieves contains clove, lemon, cinnamon bark, eucalyptus radiata, and rosemary. This blend has been found to reduce bacterial cultures by 99.96%.
Improve your health, and the health of your dog, by using Thieves for spring cleaning. We can assist you in setting up a wholesale account (For a 24% off retail cost), if you would like to purchase these products for your home!
"Thieves Essential Oil blend is a powerful combination of Clove, Lemon, Cinnamon, Eucalyptus Radiata, and Rosemary essential oils for an aromatic blend that fills any space with a rich, spicy aroma. Inspired by the legend of four 15th-century French thieves who formulated a special aromatic combination composed of clove, rosemary, and other botanicals used while robbing the dead and dying, Thieves is one of Young Living's most popular products. With the benefits of Thieves oil including cleaning power and an irresistibly spicy scent, Young Living offers it as an essential oil blend and as an important ingredient in a full range of home cleaning and personal care products, from dish soap to toothpaste. Looking to make your home smell as clean as it looks? Diffuse Thieves oil throughout the house for an aroma that makes every room smell more like fall baking than harsh cleaning formulas."
Source: www.youngliving.com