Veterinary Care at Gemini Dogs
We are very proud that all of our Gemini Dogs have access to a Veterinarian on-site here at Gemini Dogs!
Dr. Rod Arad is our personal veterinarian, and someone who we trust and respect immensely; we are so happy to have him on board as our official on-site Veterinarian. Dr. Rod is joined by his Veterinary Technician, Jasmine.

Dr. Rod will be available for appointments at Gemini and can be called in as needed for emergency visits as well.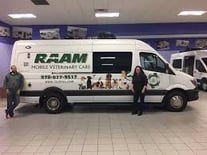 The great thing about Dr. Rod is that he is a mobile vet, so he has the ability to conduct many diagnostic procedures and even surgeries using his mobile vet clinic, which he drives right here to Gemini Dogs!

You may schedule an appointment with Dr. Rod while your dog is here for daycare or overnight boarding.
If there is anything your pup needs, from a check-up for a current issue, an annual exam, or a quick vaccine or fecal, just let him know! Dr. Rod also provides acupuncture treatments and laser therapy, as well.
You may book these appointments through our website and then Dr. Rod's team will contact you by phone to set up the appointment. After your visit, we can process payments using your credit card on file.
How Do I Set Up a Vet Visit for My Dog?
Complete the online vet care form below and we will pass the information along to Dr. Rod. They will contact you to schedule.
What if I Want to Be There for the Exam?
If you would like to be here during your dog's exam, just let them know when they call you to set the appointment. You do not need to be present if you don't want to be. After the exam, Dr. Rod will follow up with either written notes or a personal phone call, according to your preference.
Request an Appointment:
Veterinary Care Reservation Form