Private Dog Training
Effective Training through Education and Positive Reinforcement
At Gemini Dogs, we emphasize the fun and love in everything we do by teaching positive reinforcement through clicker training. Our training methods are based on proven scientific theory, not punishment. We truly believe that training and behavior modification should be safe, enjoyable, and successful for both you and your dog!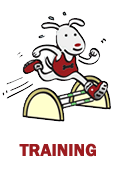 We believe in continued education for all of our trainers through programs such as educational conferences, seminars, videos, and the latest published information. Our staff members are also members of the Association of Pet Dog Trainers (APDT), a national organization that believes that all dogs are effectively trained through dog-friendly techniques and therefore are lifelong companions in a relationship based on mutual trust and respect.
Gemini Dogs offers Private Training Lessons Either at Your Home or at Our Facility
Yes, you can have us come to your home and assist you in the training of your dog! With private lessons, you will receive personal attention that is customized to meet the individual needs of you and your dog.
Registering for a Private Lesson
Email us with your vaccination records (Rabies certificate for dogs over 6 months of age)
Available Instructors:
Mich Allen CPDT-KA for behavioral issues like separation anxiety or new puppy sessions.
Lil' Michelle CPDT-KA for obedience, impulse control, or new puppy sessions.
Jenn McKay CPDT-KA for Nose Work and Agility One-on-Ones. (Click here to rebook w/ Jenn)
Emma Parsons KPT-CTP, CDBC for serious behavioral issues (severe reactivity, resource guarding, etc).
Get one-on-one to enhance your dog's basic skills such as:

sit
down
stand
stay
come
walking on leash
leave-it
drop-it
give
watch me

We can address concerns like:

the polite greeting of guests to your home
house training
leaving food and objects alone
separation issues
barking
destructive chewing
puppy biting