About Grooming at Gemini Dogs
Booking regular grooms for your dog is not only important to maintaining a healthy coat, but is also important in order to provide your dog with a grooming experience that is positive. A dog that comes in for a long-overdue groom has a much longer groom time than one who is coming in on a regular schedule. We encourage you to set a regular schedule for your pup.
We are happy to provide you with the following options for your grooming needs. A variety of full-service, professional grooming services are offered throughout the week (see schedule in the left-hand column) right here at the doggie daycare.
How Do I Set Up a Groom for My Dog?
Complete the online reservation form:

First-Time Grooming Clients: Make an appointment online

Current Grooming Clients: Use our express form

Your groomer will then contact you via email to discuss your dog and any special requirements, or if there are any questions. You can also arrange for a phone call back if you would prefer. (Please note that the groomer cannot always take phone calls immediately, as they may have a dog in the tub or on the grooming table, so for the safety of our dogs, we will generally return your call if there are questions. You may also reach out to the business owner, Mich, at 978-387-3663 with general questions.)

We will book your appointment and get your reservation entered in our scheduling system.

You will receive an automatic email confirming the booking.

Drop your dog off at anytime after 6am on the day of your dog's groom (if they are staying for daycare). If your dog is only coming in for grooming, then please drop off at your scheduled grooming appointment time.

Wait for a email from us, informing you that your dog's grooming is complete. Once you receive this email, your dog is ready for pick up. If your dog is a current daycare dog, feel free to pick up your dog at the doggie daycare anytime AFTER that pickup time, up until 10pm. (Feel free to pack a dinner for your pooch; we are happy to feed meals anytime!) You will incur a normal daycare charge if your dog stays over an hour after you are notified that your groom is complete.
Get To Know The Groomers!
Brianna Rich
Groomer

Brianna is certified in PetSaver® CPR, First Aid & Care.
Brianna started at Gemini Dogs in May of 2017. She became the Morning Shift Leader and was eventually promoted to the position of Daycare & Boarding Manager when Jess moved up. In February of 2021, she became our new groomer, after apprenticing with Jess. Brianna is attending her first Grooming Expo in October of 2021, and we are excited to see her continue to learn and grow as a groomer.
Brianna has a cat at home named Drumstick, and her favorite dog breeds are Great Danes and Corgis.
Outside of work, she enjoys hiking and playing video games. She dreams of one day opening her own rescue.
Jess Main
General Manager & Groomer
Jess is certified in PetSaver® CPR, First Aid & Care.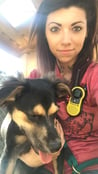 Jess started working in the daycare in February of 2015 and decided to take seminars and classes to learn how to groom dogs once she discovered that we needed a groomer. Her customers love her haircuts, and she is a much-sought-after groomer!
Jess quickly rose through the ranks to become our Daycare & Boarding Manager in November of 2016. She had to stop grooming in January of 2018, as her managerial duties required it. In July of 2019, she was promoted to General Manager and was able to return to grooming again.
Jess has attended many daycare/boarding/training/grooming seminars by renowned trainers, groomers, vets, and behaviorists in the industry. She is a regular attendee at the New England Grooming Expo.
She has two cats, Ichabod and Naked Kitty (a Sphynx), and an Australian Shepherd named Bear. Her favorite dog breeds are Vizslas and German Shorthaired Pointers, although rumor has it that a Newfoundland puppy is in her future!
She couldn't imagine any other place to spend her days than at Gemini Dogs, and she is so happy to have her Gemini Dogs Family.
Skylar Kuczwara
Bather/Brusher & Overnight Supervisor & Billing Manager
*Please Note: Skylar's services are only available for boarding dogs on Thursday, Friday, Saturday, and Sunday evenings.

Skylar is certified in PetSaver® CPR, First Aid & Care.
Skylar first worked at Gemini Dogs back in 2009 as a Kennel Tech, and was promoted to Assistant Manager before leaving to start her own family.
Skylar has several years of experience as a bather/brusher, and is trained to do baths, brushing, nail trims, ear cleaning, ear plucking, and anal gland expression.
She is available for grooming services prior to her Overnight Supervisor shifts at Gemini Dogs on Thursdays, Fridays, Saturdays, and Sundays.
Skylar has two little (human) girls, a Plott Hound named Danni and a Boxer mix named Priya. She enjoys spending time with her family and reading whenever she gets a quiet moment. Her favorite breed is anything in the Hound family.