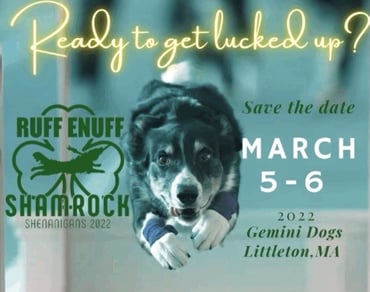 Tournament Name:
1st Annual Shamrock Shenanigans
**Click here for the
Tournament Welcome Letter**
Single Dog Racing/Mat Time:
Friday, March 4, 2022 from 3pm-7pm
Tournament Dates:
Saturday & Sunday, March 5-6, 2022
Location:
Gemini Dogs Training & Event Center
53 Ayer Road in Littleton, MA 01460
Closing Date: Entries Close on Friday, February 11, 2022
Running Surface: Tuffspun on top of 3/4" GreatMats Agility Matting
Runback: We will have 70' of runback
Judge: Peter Guidolin
Exciting News About This Tournament:
Welcome Gifts, Placement Prizes, Junior Handler Awards, & Special Awards will be provided at this tournament!
Complimentary Breakfast and Lunch are included with your entry fee (provided on Saturday and Sunday).
Happy Hour & Games to follow the completion of racing on Saturday.
Coaching/Training Sessions by Aaron Robbins from Rocket Relay will be available on site throughout the weekend. (Please contact Bonnie at ruffenuff@charter.net for questions and scheduling.)

Shamrock Shenanigans tournament T-shirts

($25) on sale now until Friday, February 11th!
Click Here to Pre-order Pre-ordered T-shirts will be distributed at the tournament.
A limited number of both T-shirt styles will be available for sale at the tournament for $30.
Sanctioning Organization: U-FLI

All dogs must have a Race Utility Number (RUN) issued by U-FLI prior to competing in a U-FLI sanctioned event.
Classes of Tournament Racing

Saturday & Sunday, March 5th & 6th

*Racing Begins at 7am*


For any questions related to U-FLI or registering for the Tournament, please contact: Bonnie Deschenes at ruffenuff@charter.net
Don't forget to register below for Single Dog Racing/Mat Time as well!


2 days (Sat & Sun):

Standard ($150) - A team consisting of four to six dogs of any breed.

Format TBD, based on number of entries.




Available for Individual Days: (Sat or Sun or Both)

Singles ($25/day) - Limit 20 teams
A timed head-to-head race. Two races per day of 4 heats each.


Pairs ($35/day) Limit 20 teams
A timed (2 dogs against 2 dogs) head-to-head race. Two races per day of 4 heats each.


Pre-Flight ($20/day) Limit 20 teams


A 7-minute training session for green dogs to get exposed to the tournament environment but are not officially competing. Props and distraction dog(s) are permitted.

Two 7-minute sessions per day.

Need an affiliated U-FLI team to run under? Contact Sue Bonofiglio schapm01@gmail.com
Single Dog Racing/Mat Time
Friday, March 4th from 3pm-7pm
*Select Your Preferred Time*
Register online here!
The United Flyball League International, Inc. (U-FLI)Sanctioning Organization: The United Flyball League International, Inc. (U-FLI)Please Note: 30" Jumps Will Be in Use at This Tournament
Starting June 1, 2022 all U-FLI sanctioned events will be switching to 30" wide jumps. With better training, improved equipment and thoughtful breeding, dogs of all shapes and sizes are speeding up and we feel that this change is a positive one for the safety and best interest of the dogs competing in the sport. This will allow dogs to be more confident with passing, encourage more jump commitment, and less risk of injury should 2 dogs end up in the jumps in a heat. The change would also put the jumps back in line with the regulated max width of a box (30") in U-FLI.
COVID Protocol
The following protocol will be in effect at this event:
Each person will be required to show a vaccine card to receive a wristband issued by the Host Club to wear for the weekend. Those who do not have a vaccination card, will need to take extra precautions. Masks are required at all times while in the event venue building of any U-FLI sanctioned event (judges and scorekeepers are exempt). U-FLI is monitoring the Centers for Disease Control and Prevention (CDC) and World Health Organization (WHO) recommendations closely. Due to the nature of viruses, the COVID-19 pandemic, and the associated new variants; our policy may change at any time. If an event is in an area of an outbreak, a last-minute decision might be made to follow the original COVID policies even if all attending have been vaccinated.
(*Waiver is located within the online tournament registration form and must be accepted to register for this event.)
COVID-19 Protocol Instructions for Canadians:
Take rapid antigen test within 24 hours of crossing into the United States.
Book an appointment for return trip home (PCR test). (Contact Stephanie Streletz for assistance with testing.)