Who Is Gemini Dogs?
Our staff works hard to make your dog's stay a safe, healthy, and fun one! Our staff have a genuine love for what they do and for the dogs in our care. You can always count on us to treat your dog as if he were our own...we really do love our Gemini Family! Read below to learn a little more about the way Gemini Dogs started and who we are.

Meet the Gemini Dogs Family

Michelle Allen, CPDT-KA ~ "Mich" (pronounced like "wish")
Owner & Certified Professional Dog Trainer
Mich started her career at Gemini as the Office Manager back in the 90's and worked her way up from there... all thanks to "Dancer" (shown here), her original Gemini Dog. Mich had three separate experiences with finding lost dogs in one week and it was a chance stop at a pet store that same weekend to buy Dancer a new dog bed that started it all; she saw a Gemini Dog Training & Daycare business card that said, "Office Help Wanted" and realized that the dogs were calling out to her. That was the beginning of the wonderful journey to where we are today!
Instructing since 2008, Mich is a Certified Professional Dog Trainer (CPDT-KA) and has participated in numerous dog training and daycare/boarding seminars and workshops in the New England area and beyond, including the APDT Conference, Clicker Expo, the Dogs of Course Instructor Training Course (ITC), the Pet Boarding and Daycare Expo, the Dog Gurus, seminars by Karen Pryor, Bob Bailey, Carolyn Barney, Sue Sternberg, Pia Silvani, and more.
She is a member of the Association of Pet Dog Trainers (APDT), the International Boarding and Pet Sitting Association (IBPSA), and the Dog Gurus.
She is an AKC Canine Good Citizen (CGC) and STAR Puppy Evaluator, as well as a disaster services volunteer with the Humane Society of the United States (HSUS), United Animal Nations (UAN), State of Massachusetts Animal Response Team (SMART), and the Central Massachusetts Disaster Animal Response Team (CMDART).
Mich has competed in Rally-O, CPE Agility, and TDAA Agility with her former dogs, Dancer and Tyler. She now has four dogs at home, including a Boerbel (Solee), a Boxer (Hemi), and two Shi-Poos (Baxter & Tigger), as well as a house-guest Australian Shepherd (Bear). She has already said goodbye to her Pittie mix (Sky), her Bichon (Tyler), and her Terrier Mix (Dancer)...they all await us at the Rainbow Bridge with all the other Gemini Dogs that have gone before and after them.
Penny Allen
Owner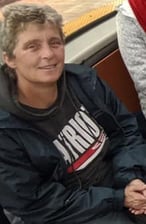 Penny joined the Gemini Dogs family in 2005, and is well-known to all of the doggies as their primary source of love and cookies! Penny has been involved with every aspect of the business, from working as a Kennel Tech to completely running the business while Michelle was unavailable to do so. Penny now takes care of the day-to-day billing and accounting for Gemini Dogs, and provides un-ending support to her wife and co-owner, Michelle Allen. She also owns Solee, Hemi, Baxter & Tigger, and of course we both claim Bear, even though he is technically Kyle's dog!
Penny and Mich were married in 2012 on-board the Norwegian Dawn in Boston, and they enjoy cruising when they have the opportunity to sneak away for a week. They have three boys, Kyle, Cory, and Cody, all of whom have worked at Gemini Dogs in the past. Kyle and Cory both joined the Marine Corps and were based in Camp Lejuene, while their youngest boy lives in Ohio. Lucky for them, their oldest son Kyle moved back to MA after his service and now has a beautiful baby boy, Kyle Jr., so we are officially Grandmas!
Jess Main
General Manager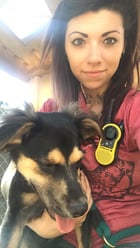 Jess started working in the daycare in February 2015 and took seminars and classes to learn how to groom dogs when she discovered that we needed a groomer. Her customers loved her haircuts!
Jess quickly rose through the ranks to become our Daycare & Boarding Manager in November 2016. She had to stop grooming in Jan 2018, as her managerial duties required it. In July 2019, she returned to grooming again, and was promoted to General Manager. She has two cats, Ichabod and Naked Kitty (a Sphynx), and an Australian Shepherd named Bear. Her favorite dog breeds are Vizslas and German Shorthaired Pointers. She has been to many seminars by renowned trainers, vets, and behaviorists in the industry.
She couldn't imagine any other place to spend her days than at Gemini and is so happy to have her Gemini Family.
Michelle Doucette, CPDT-KA
Certified Professional Dog Trainer & Office Manager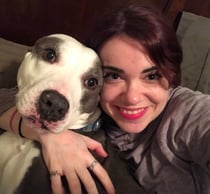 Lil' Michelle is a Certified Professional Dog Trainer (CPDT-KA) and has been a part of the Gemini family since July 2011. She has a Pit Bull named Liberty and a mini Dalmatian named Panda. She fosters dogs for a rescue organization and has successfully placed over 75 dogs into forever homes. She graduated with a BA in Human Ecology with a focus in Animal Behavior and her senior project was a published work on Canine Body Language and Safety. She also spent a year and a half overseas teaching English in South Korea and Vietnam. She takes her experience and love of teaching into the training classroom. Her favorite breeds are Pit Bulls, Papillons, and Boston Terriers. She says we couldn't get rid of her even if we tried because Gemini is truly her second family.
Brianna Rich
Groomer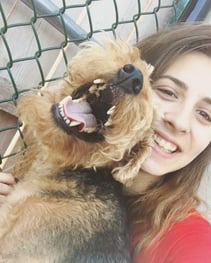 Brianna started at Gemini in May 2017. She became the Morning Shift Leader and eventually the Daycare Manager. In February 2021, she became our groomer! She has a cat at home named Drumstick, and her favorite dog breeds are Great Danes and Corgis. Outside of work, she enjoys hiking and playing video games. She dreams of one day opening her own rescue.
Macklin Maguire
AM Shift Leader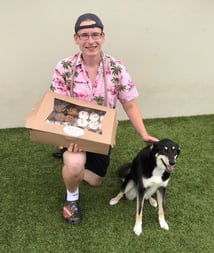 Mack started at Gemini in July 2017. He is now our AM Shift Leader. He has a mixed breed pup named Elliott. He loves dogs and he would like to be an animal behaviorist. Outside of Gemini he does a lot of hiking with Elliott and does behavioral work with dogs for the experience. He says his favorite things about working at Gemini are the dogs and the holiday snacks the parents bring in for staff.
Olivia Mitchell
PM Shift Leader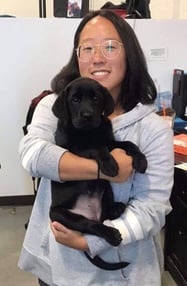 Olivia started at Gemini in April 2018. She is now our PM Shift Leader. She has a bunny, a cat, and a German Shepherd/Great Pyrenees mix named Finn. She loves working at Gemini and says the people and dogs are all amazing. She especially loves spending time with the Huskies, her favorite breed. Outside of work she likes to draw and play video games.
Annie Roberts
Senior Kennel Tech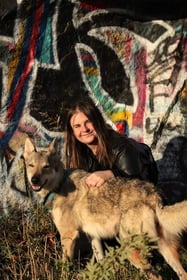 Annie joined the Gemini team in September 2019. Before working at Gemini, her jobs included working at a Wolfdog Rescue and at a Greyhound Racetrack in Alabama. She has spent over 6 years working with dogs in various capacities. When she isn't at Gemini, she likes to spend time hiking with her dogs and drawing. She even does a doodle of the "Gemini Dog of the Week" on the staff whiteboard each week. She goes to many dog events and reads, reads, reads - She is a wealth of knowledge about all things dog! She has two dogs – a Czechoslovakian Vlcak named Leica and a Karelian Bear Dog mix named Ren. Vlcaks are her favorite breed.
Casey Van Vliet
Kennel Tech
Kaelynne Shaw
Kennel Tech
Kara Leisten
Kennel Tech
Lily Morey
Kennel Tech
Megan Jumper
Kennel Tech
Summer Brooks
Kennel Tech
Taybor Grant
Kennel Tech
Skylar Kuczwara
Overnight Staff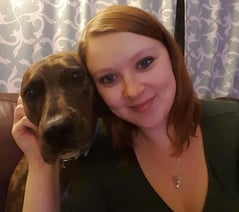 Skylar first worked at Gemini back in 2009-2010. She returned in 2014 as an Assistant Manager and now she is the main person who stays with the dogs overnight. She has two little human girls and a Plott Hound named Danni. Skylar enjoys spending time with her family and reading whenever she gets a quiet moment. Her favorite breed is anything in the hound family.
Welcome to the Gemini Dogs family! Woof!