About In-House Grooming at Gemini Dogs
We are happy to provide you with the following options for your grooming needs.
A variety of full-service, professional grooming services are offered throughout the week (see schedule in the right-hand column) right here at the doggie daycare.
How Do I Set Up a Groom for My Dog?
Complete the online reservation form:


First-Time Clients: Make an appointment online

Current Clients: Use our express form

Kerri will contact you to discuss your dog and your needs, if there are any questions.
We will book your appointment and get your reservation entered in our scheduling system.
You will receive an automatic email confirming the booking.
Drop your dog off at anytime after 6am on the day of your dog's groom if they are staying for daycare. If just for grooming, drop off at scheduled grooming appt. time.
Wait for a phone call from us informing you of your dog's pick-up time.
Pick up your dog at the doggie daycare anytime AFTER that pickup time, up until 10pm. (Fe

el f

ree to pack a dinner for your pooch; we are happy to feed meals anytime!)
Get To Know The Groomer!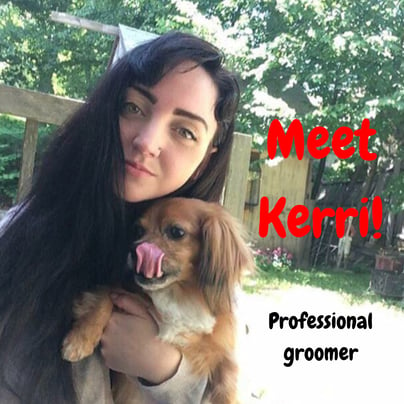 My name is Kerri!
I have a dachshund mix named Little Bear and a horse named Spring. I have always been an animal lover and am a groomer who loves her career! I have been actively involved in the industry since 2013 and stay up to date on new products, techniques and continued education.
Whether you want a breed standard cut, a maintenance trim or a bath and brush out, your dog will leave looking and smelling beautiful and with a positive grooming experience! All grooms include a bath, hand dry, brush out, ear check/clean and nail trim. All my cuts consist of a great deal of hand scissoring techniques and I love to have fun with creative styles. I look forward to meeting all the Gemini pups and their humans!
What Kerri offers:
BREED SPECIFIC CUTS
An AKC standard cut or modified version specifically for your dog's breed
MAINTENANCE CUTS
A cut based on your lifestyle to keep your pup clean and beautiful
BATH AND BRUSH OUT
A bath, hand dry and brush out for a shiny, healthy coat
ADD ON "MUST HAVES"
Flea and tick therapy
De-shed treatment
Nail grinding/filing
Handstripping
Touch of color
Questions and Answers:
HOW IMPORTANT IS REGULAR GROOMING?
Booking regular grooms for your dog is not only important to maintain a healthy coat, but is also important in order to provide your dog with a grooming experience that is positive. A dog that comes in for a long overdue groom has a much longer groom than one who is coming in on schedule.
HOW MUCH WILL MY DOG'S GROOM COST?
Prices vary depending on breed and what is required in order to send your dog out looking it's best. Prices are based on breed/coat/size but generally:
baths start at $46 +
grooms start at $56 +
de-matting: $1 per minute
de-shedding treatment: $5 - $20
specialty shampoos: $6
handstripping: $1 per minute
brush out ONLY (in between grooms): $1 per minute
nail trim ONLY (in between grooms): $10