About In-House Grooming at Gemini Dogs
We are happy to provide you with the following options for your grooming needs.
A variety of full-service, professional grooming services are offered throughout the week (see schedule in the right-hand column) right here at the doggie daycare.
How Do I Set Up a Groom for My Dog?
Complete the online reservation form:


First-Time Clients: Make an appointment online

Current Clients: Use our express form

Jess will contact you to discuss your dog and your needs, if there are any questions.
We will book your appointment and get your reservation entered in our scheduling system.
You will receive an automatic email confirming the booking.
Drop your dog off at anytime after 6am on the day of your dog's groom.
Wait for a phone call from us informing you of your dog's pick-up time.
Pick up your dog at the doggie daycare anytime AFTER that pickup time, up until 10pm. (Feel free to pack a dinner for your pooch; we are happy to feed meals anytime!)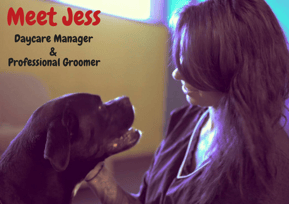 A professional groom is really worth the extra money! Here is a list of what Jess will do for your pooch:
Brush-Out

Bath

Hand Blow-Drying

Nails Trimmed and Filed

Ears Plucked and Cleaned

Haircut of Your Choice

De-Shedding Treatment