Dog Training
Effective Training through Education and Positive Reinforcement
At Gemini Dogs, we emphasize the fun and love in everything we do by teaching positive reinforcement through clicker training. Our training methods are based on proven scientific theory, not trendy training methods or punishment like e-collars. We truly believe that training and behavior modification should be safe, enjoyable, and successful for both you and your dog!
We believe in continued education for all of our trainers through programs such as educational conferences, seminars, videos, and the latest published information. Our staff members are also members of the Association of Pet Dog Trainers (APDT), a national organization that believes that all dogs are effectively trained through dog-friendly techniques and therefore are lifelong companions in a relationship based on mutual trust and respect.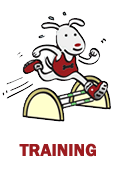 Gemini Dogs offers a range of training classes for dogs of all ages, types and sizes.
The following obedience classes are currently being offered:
Classes meet once a week for 8 weeks (with the exception of Puppy Playschool, which is a 6 week class). Each class is about an hour long. You'll receive helpful homework and training tips to practice in between classes.
Registering for Class
To secure your spot in class, you must:
Email us with your vaccination records (Rabies certificate for dogs over 6 months of age)
Training classes will

NOT

be held on the following holidays:

New Years Day



Memorial Day


Independence Day

Labor Day


Columbus Day



Thanksgiving Day


Christmas Day