Who Is Gemini Dogs?
Our doggie daycare and boarding staff works hard to make your dog's stay a safe, healthy, and fun one! Our staff have a genuine love for what they do and the dogs in our care. You can always count on our staff to treat your dog as is if he were their own! We really do love our Gemini Family!

Meet the Gemini Dogs Management Team

Michelle Allen
Owner: Instructing since 2008, Michelle has participated in numerous dog training seminars and workshops in the New England area and is a CGC and STAR Puppy Evaluator, as well as a disaster services volunteer with the Humane Society of the United States (HSUS), United Animal Nations (UAN), State of Massachusetts Animal Response Team (SMART), and the Central Massachusetts Disaster Animal Response Team (CMDART).
Penny Allen
Owner
Brianna Rich
Daycare Manager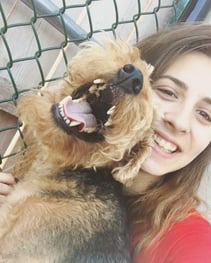 Brianna started at Gemini in May 2017. She became the Morning Shift Leader and eventually the Daycare Manager! She has a cat at home named Drumstick, and her favorite dog breeds are Great Danes and Corgis. Outside of work, she enjoys hiking and playing video games. She dreams of one day opening her own rescue.
Macklin Maguire
AM Shift Leader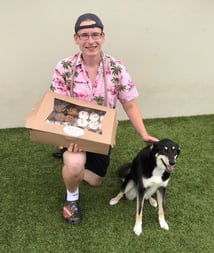 Mack started at Gemini in July 2017. He is now our AM Shift Leader. He has a mixed breed pup named Elliott. He loves dogs and he would like to be an animal behaviorist. Outside of Gemini he does a lot of hiking with Elliott and does behavioral work with dogs for the experience. He says his favorite things about working at Gemini are the dogs and the holiday snacks the parents bring in for staff.
Olivia Mitchell
PM Shift Leader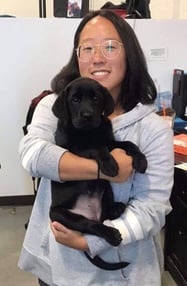 Olivia started at Gemini in April 2018. She is now our PM Shift Leader. She has a bunny, a cat, and a German Shepherd/Great Pyrenees mix named Finn. She loves working at Gemini and says the people and dogs are all amazing. She especially loves spending time with the Huskies, her favorite breed. Outside of work she likes to draw and play video games.

Meet the Gemini Dogs Office Staff Team
Michelle Doucette
Office Manager, New Dog Coordinator, & Assistant Trainer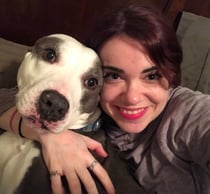 Lil' Michelle has been a part of the Gemini family since July 2011. She has a Pit Bull named Liberty and a Miniature Dachshund named Rudy. She fosters dogs for a rescue organization and has successfully placed over 60 dogs into forever homes. She graduated with a BA in Human Ecology with a focus in Animal Behavior and her senior project was a published work on Canine Body Language and Safety. She also spent a year and a half overseas teaching English in South Korea and Vietnam. Her favorite breeds are Pit Bulls, Papillons, and Boston Terriers. She says we couldn't get rid of her even if we tried because Gemini is truly her second family.
Lacee Shaw
Administrative Office Assistant
Lacee started with us in August 2019. She has a Jack Russell Terrier/Chihuahua Mix named Drita. She is very fond of Jack Russells and Dobermans. She loves working at Gemini and getting to know all of the dogs and their parents. Her absolute favorite part of the day is "Doggie Roll Call" when she gets to double check the day's attendance by going around and greeting every dog in the building. Outside of Gemini, she hangs out with Drita, plays video games, and spends time with her daughters.
Meet the Gemini Dogs Kennel Tech Team
Ayoub Bezzaz
Kennel Tech
Beth Colantoni
Kennel Tech
Carianne Deacon
Kennel Tech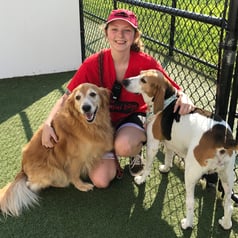 Carianne began at Gemini in November 2018. At home, she has 2 cats, a bird, and an English Bulldog named Gronk. She enjoys softball, soccer, photography, reading, and playing the Ukulele. She is a Clinical Psychology student at UMass Lowell and she plans to go into Social Work. She formerly was an Animal Science Major at UMass Amherst. Before Gemini, she gained hands-on experience working with animals on a farm. She wanted to work at Gemini because she absolutely loves taking care of animals and gives the dogs extra love and cuddles whenever she can. Her favorite dog breed is Shih Tzu.
Danny Lessard
Kennel Tech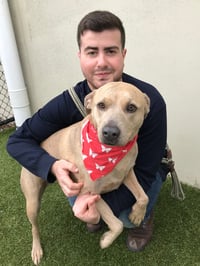 Danny started with us in January 2019. He is a dog lover who has always been charmed by the many distinct and eccentric personalities across all breeds of pups. He is known to be especially sensitive towards the dogs who require special attention. Danny has quite a collection of pets at home: a dog who thinks he's a cat, a cat who thinks she's a dog, a hamster who isn't too fond of the cat, and a turtle who won't stop growing! He has many nautical hobbies outside of Gemini and owns a boat down the Cape. He is also an Engineering student at UMass Lowell and he plays guitar.
Jacob Hull
Kennel Tech
Jason Dyason
Kennel Tech
Joshua Hoock
Kennel Tech
Joshua Ovenden
Kennel Tech
Julia Dunn
Kennel Tech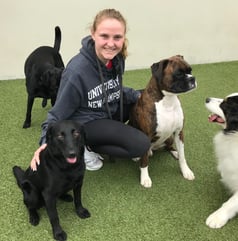 Kaylah Gravel
Kennel Tech

Kyle Hill-Smith
Kennel Tech
Kyle started at Gemini in November 2018. Kyle has a German Shepherd named Danny. He absolutely loves spending time with all the dogs that he has gotten close to at Gemini. He especially loves Pit Bulls. Outside of work, he likes playing drums and video games.
Max Bollous
Kennel Tech
Robert Levin
Kennel Tech
Skylar Kuczwara
Kennel Tech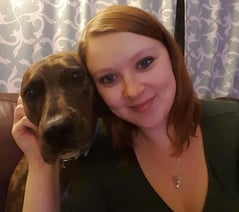 Skylar first worked at Gemini back in 2009-2010. She returned in 2014 as an Assistant Manager and now she is the main person who stays with the dogs overnight. She has two little human girls and a Plott Hound named Danni. Skylar enjoys spending time with her family and reading whenever she gets a quiet moment. Her favorite breed is anything in the hound family.
Tyler Pageau
Kennel Tech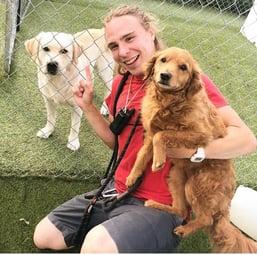 Tyler started at Gemini in November 2017. He says he could never leave Gemini because he is far too emotionally attached to all the dogs here. He has a Cavalier King Charles Spaniel named Santino who loves Gemini as much as he does. He really loves watching movies and his favorite film is Django Unchained.
Meet the Gemini Dogs Groomer
Jess Main
Professional Groomer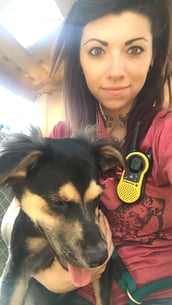 Jess started working in the daycare in February 2015 and took seminars and classes to learn how to groom dogs when she discovered that we needed a groomer. Her customers loved her haircuts! She quickly rose through the ranks to become our Daycare Manager in November 2016. She had to stop grooming in Jan 2018, as her managerial duties required it. In July 2019, she returned to grooming again! She has two cats, Ichabod and Naked Kitty (a Sphynx), and an Australian Shepherd named Bear. Her favorite dog breeds are Vizslas and German Shorthaired Pointers. She has been to many seminars by renowned trainers, vets, and behaviorists in the industry. She couldn't imagine any other place to spend her days than at Gemini and is so happy to have her Gemini Family.
Thank you for becoming part of the Gemini Dogs family! Woof!