What Is Gemini Dogs?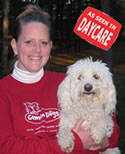 Established in 1991, Gemini Dogs is one of the most well-respected and well-known dog centers in New England and is one of the largest dog care facilities in Massachusetts. We provide outstanding dog training, doggie daycare, overnight boarding, and grooming for dogs of all shapes and sizes.
Effective Training through Education and Positive Reinforcement
At Gemini Dogs, we emphasize the fun and love in everything we do by teaching positive reinforcement through clicker training. Our training methods are based on proven scientific theory, not trendy training methods or punishment like e-collars. We truly believe that training and behavior modification should be safe, enjoyable, and successful for both you and your dog!

We believe in continued education for all of our trainers through programs such as educational conferences, seminars, videos, and the latest published information. Our staff members are also members of the Association of Pet Dog Trainers (APDT), a national organization that believes that all dogs are effectively trained through dog-friendly techniques and therefore are lifelong companions in a relationship based on mutual trust and respect.
24-hr Doggie Daycare and Overnight Boarding
Gemini Dogs offers doggie daycare and overnight boarding and can accommodate over 75 dogs in our climate-controlled daycare nap room. Our securely-fenced outdoor play area gives our guests plenty of room to stretch their legs, play, and make new friends during each visit.
Moms and Dads love us because there is always a staff member watching over their babies day and night, twenty-four hours a day. In fact, our overnight staff sleeps in the next room over -- not many other kennels can say that!
Thank you for becoming part of the Gemini Dogs family! Woof!