Overnight Boarding with 24-Hour Supervision

Our overnight boarding service is very different from what you will find at the average kennel. How is it different? Let's chat:
We stay here with your dog overnight, so he is never left unattended. (Are you shopping around? Be sure to ask this question...you'd be surprised how many kennels do not offer this security!)
We are open for drop-offs and pick-ups between 6:00 AM-10:00 PM every day of the year. We want to make it easy for you to do business with us, and we don't think it's fair to limit your ability to come and go as you please. We will even open early or stay open late for you if you ask!
We do not charge extra for administering your dog's medication.
We do not require you to feed your dog food that he does not normally eat or change his meals just because he is at daycare. That is not good for his tummy! At Gemini, your pup will get the same meals he gets at home, including any supplements. We simply ask you to pre-bag his food into a labeled Ziploc baggie, one bag for each meal. We normally feed the dogs at 6 AM, 12 PM and 5 PM, but we are happy to adjust to the schedule your dog is used to. We can also accomodate diets that require refrigeration or freezing.
We encourage you to bring your dog's bedding and toys along with him so that he will be more comfortable during his stay. And we take a detailed inventory, so that we can be sure to return your items to you at checkout.
Your dog will go outdoors to potty and play...he won't be trapped indoors for days at a time while you're away! Of course, we also have indoor play areas for use during inclement weather; but whenever possible, your dog gets to play outside in the fresh air! We have puppy playground equipment, swimming pools, and shade mats installed for your dog's comfort outside.
Your dog's day is broken up into periods of playtime and naptime. We rotate your dog from indoors to outdoors for 30 minutes at a time, every other hour, throughout the day. For example, he will play outdoors from 9:00 - 9:30 AM, and then nap in his crate from 9:30 - 11 AM. Then it's back outside from 11 AM - 11:30 AM. This process continues until 10 PM when it's lights out; and yes, the dogs always sleep through the night...
We offer you the chance to add doggie playgroups to your dog's visit for $20 per day. Your dog will be placed in a playgroup with 3-10 other dogs of the same size, age, and temperament for supervised play sessions. Our staff members are trained to read dog body language, assuring that your dog is safe, happy, and socializing appropriately.
And please don't worry if you do not want your dog to participate in the play sessions. He still gets just as much time outside as every other dog, he just goes into a separate pen with a ball or a Kong toy.
Making your dog's experience fun and safe is our main goal.
A Typical Day
Want a dog's eye view of the boarding process? Take it from Robbie Rob, a new husky pup that is boarding with us:
Hey everybody! My name is Robbie Rob. At least I think that's my name...I also get called sweety, cutey, and baby, so I'm not sure which one is my real name. Anyway, here's how I see this whole boarding process going down:
Your mommy/daddy will drop you off whenever they want; anytime after 6 AM or up until I go to bed at 10 PM. The nice people that work here will ask your parents some questions and make sure that they know how to get in touch with them if an emergency situation occurs, which I hear is almost never around here, because they are so careful and have so many safety processes in place. That's good to know!
Anyway, once your parent leaves, they will get you all settled into your new home. They write down a detailed description of all the stuff that you brought along; the blankies, the toys, the treats, any medicine, containers, bags, etc. It's kind of nice that they let you bring your own stuff along, you know? A lot of my pals like having their favorite toy with them, and you probably will, too. Especially if this is your first time.
Each morning, the nice people will wake you up at 6 AM and take you outside for potty time. I'll probably see you out there...maybe you'll even be in my playgroup!
They will give you a clean fresh bowl of water in your crate, and fluff your blankies. I think they even leave a bone on your pillow! They put a big bucket of water outside, too; I like to play in that one.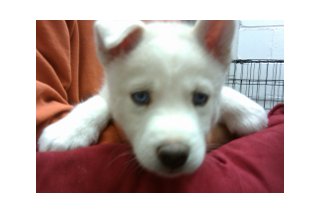 Assuming your parents are cool and they chose to add playgroups for you, the nice people will start introducing you to other dogs one at a time, so that you won't be overwhelmed on your first day. Once they find you a playmate (pick me!) or a group of friends, they'll take you all out to the securely fenced play area for supervised group play. (And if you're a little nervous on your first day, they'll just pair you up with a human friend for some snuggle time.)
It's kind of cool, because the playground is divided up into multiple areas, so they can bring a couple of groups outside at one time without mixing us all together. Each playgroup has its own person assigned to watch over us...they stay right in the pen with us so that if we need help, they're right there. Of course, they also get to pet us and tell us how cute we are. I like that part!
Once your playtime is over (about 35 minutes on most days) you'll go back into your house for your between-play nap. Naptime is about 90 minutes, but it flies by...you'll be tired, don't worry! After naptime, your group will meet up again out on the playground. We go outside every two hours, so get ready for some fun!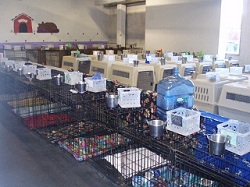 At noon, we all get an afternoon snack (either one that your parent provided, or one from the bakery). You can join me for lunch, too, if you do lunch? We eat in our crates, so there's no worries about another dog squabbling over your food!
Playgroup and naptime continue like that for the rest of the day. We eat dinner between 5:00-6:00 PM, and I forgot to mention that breakfast is served at 6:00 AM.
At 10:00 PM, it's lights out...the overnight people stay in their own giant crate (they call it the sleep room) next to our doggie nap room. If you need them, just bark or whine and they'll come out and check in on you. Most of us stay pretty quiet, though. We're pooped at the end of the day!
Hopefully, your human will sign you up soon!
Grooming Available
We offer grooming services; ask us when the groomer is available. We also offer nail trims for $10.
Private Training Available
Your pooch can be trained while he is here with us! Private daily training is $30 per day. We'll work on whatever you would like us to...from basic manners to agility practice!
Let us know in advance if you would like to have us train your dog while he's here. We can support your in-class work by practicing with your dog, or we can build his skills and teach him something new!
Your dog will be clicker-trained, which in our opinion, is the fastest and most positive training approach. This is also the most transferable method of training from one person to another. You will be given reading materials and some clicker training exercises to practice with your dog once you return. It will be your responsibility to maintain the training in your dog's daily life. Just as humans do, dogs will revert to old habits if new ones are not maintained. We will be available to help you through the transition process.